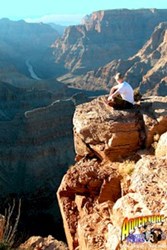 Las Vegas, Nevada (PRWEB) October 22, 2013
Las Vegas is one of the most exciting travel destinations in the world, but sometimes it's nice to explore beyond the city's borders. DestinationCoupons.com has compiled the best day-trip deals to consider during your next visit to Sin City.
Tired of the bright lights and blackjack? Ready for the soothing sounds of nature? Experience the majesty of Grand Canyon on a motorcoach tour. Separate from the famous national park at the South Rim, Grand Canyon West is a unique way to experience this famous natural wonder and the world-famous Skywalk. Choose from a variety of exciting upgrades, including horseback riding, panning for gold, and helicopter tours. Buy one, get one free bus tour deals are available from Las Vegas to both the South Rim and the West Rim.
Budget travelers love few things more than the word "free," so they will want to consider a complimentary Laughlin Gambling Tour, which includes transportation to and from Las Vegas hotels, a show ticket, buffet lunch or dinner, and a narrated tour. DestinationCoupons.com has details on this free day of fun and other bus tours from Las Vegas.
Now that the government shutdown has ended and the national parks are open to travelers, explore Zion, Bryce Canyon Death Valley, and the Grand Canyon on a ground tour via Adventure Photo Tours. Photographers, bring your camera (or request a camera and film if you've forgotten yours) and explore the beauty of some of America's most magnificent landscapes.
Travelers who prefer celebrity sightings rather than natural landscapes can try the Hollywood Day Tour which takes guests from Las Vegas to Los Angeles for a day of sightseeing. From the walk of fame to the famous Hollywood sign, travelers of all ages will experience a look at famous Hollywood landmarks during this 14-hour excursion. These semi-private luxury discounted tours include free snacks, water, and lunch.
Feel the wind in your hair as you experience nature via zipline. Flightlinez offers beautiful views of Bootleg Canyon at speeds up to 60 mph on 8,000 feet of zipline. This is a perfect day trip for those who want to enjoy a bird's eye view of the desert. Enjoy a 15-minute scenic bus ride followed by a short hike before you begin your ziplining adventure. This excursion includes four zipline runs, and each consists of four parallel lines allowing groups of up to four people to take the journey together.
Speaking of viewing life from above, Southern Nevada and Northern Arizona offer plenty of opportunities to soar. Try a helicopter or plane flight over one of the iconic sites nearby like the Grand Canyon, Lake Mead, Hoover Dam, and Grapevine Mesa. Fly to Grand Canyon West where a helicopter descends 4,000 feet to the bottom for a picnic lunch or meet pontoon boats for a cruise up river. Travelers can grab a coupon code and book their tour through DestinationCoupons.com.
For a chance to drive a Ferrari or Lamborghini, try World Class Driving's Red Rock Experience tour. Take the thirty-mile roundtrip drive from Las Vegas to Red Rock Canyon, one of the quintessential places to find desert beauty at its finest. During the journey, travelers have the chance to drive three high-performance cars along scenic open roads. Save $99 off the regular price with DestinationCoupons.com.
History-lovers will want to try a tour of the old ElDorado mining town. This tour has it all! Soar over Hoover Dam, through Black Canyon, and along the mighty Colorado River by helicopter, then land in Eldorado Canyon. Here, explore the remains of the Techatticup Gold Mine, which used to be the most productive gold mine in Southern Nevada. Just outside the mine sits a ghost town. As if that isn't enough exploration, this tour also includes a guided one-hour excursion into the surrounding desert by either ATV, Jeep, kayak or horseback.
About DestinationCoupons.com
DestinationCoupons.com offers discounts on hotels, restaurants, rental cars, shopping, shows, and attractions, making it easy to save money in thousands of cities around the globe. Travelers can either print off their coupons ahead of time or access them on their smartphones. No credit card, login, or membership required.
###