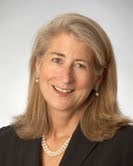 Chicago, IL (PRWEB) October 22, 2013
Established retained executive search professional and family office consultant Lisa Ryan has joined Chicago-based Mack International LLC, the premier family office retained executive search and human capital/strategic management consulting firm.
Ms. Ryan brings more than 25 years of business experience helping sophisticated clients and senior executives attain goals and enhance organizations.
"We are thrilled to welcome Lisa to our team at Mack International," said president and founder Linda Mack. "She is highly regarded in our industry and brings significant expertise as a consultant and in placing senior level executives with family offices, family businesses and wealth management advisory firms nationwide. She is very familiar with the needs and requirements of our clients and has an ability to evaluate candidate/client compatibility and culture fit beyond knowledge, skills and experience, which fits well with the Mack 360© and other assessments that Mack International has originated in the industry," Mack added.
"My deep experience in working with families and their business enterprises will further amplify Mack International's leadership position in the market," said Ryan. "We share a passion for delivering the highest level of excellence in executive search and human capital consulting to our clients and I am very excited about being a part of the Mack team."
Prior to joining Mack International, Lisa was a Managing Director for a boutique retained search and consulting firm, specializing in the family office and wealth management industries. Previously, Ms. Ryan was a senior consultant with Family Office Exchange (FOX), where she managed its executive search practice while also executing consulting assignments related to assessing client needs and compensation for family office executives.
Lisa also serves as a coach and facilitator in leadership development with the Loyola Family Business Center and as a member of the Strategic Leadership Team for the Midwest Chapter of the Family Firm Institute. Lisa is a certified administrator of the behavioral assessments DISC/PIAV, the Hogan Assessment and the Leadership Versatility Index.
Ms. Ryan earned her Master's degree from Georgia Institute of Technology and her Bachelor of Arts degree from Hollins College. Lisa is also Trustee for the Planning Commission of River Forest, an Advisory Board Member for Trinity Volunteer Corps/Ronald McDonald House Charities, a Senior Mentor for North Lawndale College Prep and a member of the DePauw University Parents Council.
Mack International, LLC, headquartered in Chicago, is a global retained executive search and strategic management/human capital consulting firm serving clients in the family office, family business enterprise and the wealth management industries. Mack develops close consultative partnerships with clients and candidates and has achieved an exceptional track record of success as evidenced by consistent referrals, repeat engagements and long tenures of candidates placed.