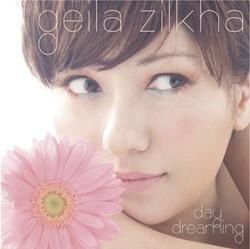 In this album, I was able to bring out some of the best of myself and I even got to write and arrange some of the tunes
(PRWEB) October 22, 2013
Geila Zilkha is a seasoned performer. In her latest CD project "Day Dreaming" she portrays many facets of a true vocalists quest to tell a story that captures the heart of her audience. Geila's unique vocal style takes the listener on a soulful journey leaving doors open to bend the melody giving her phrasing a style all her own creating a platform for authentic originality that has become a signature sound in the international marketplace.
Showing a strong interest in the arts and music from a very young age Geila leaned toward a sincere interest in ballet. At the age of nine, she had surgery resulting in a metal rod being implanted in her back due to a diagnosis of scoliosis. Relinquishing dance and sports to her condition, Geila was determined to hold onto the reigns pursuing a careeer in music. Recovering from her operation, Geila picked up the alto saxophone coupling that with instruction in piano. After a series of performances with different bands, Zilkha took the post of leading a big band. Berklee College of Music in Boston became her next stop obtaining a deeper knowledge of the alto saxophone soon discovering that her instrument of choice was her voice and immediately made singing her major for the following year.
Upon graduation and returning to her homeland, Geila delved into other areas of performance that supported her talent leading her to becoming a television and radio personality at a leading Osake radio station (FM802) which became her home for the next three years.
After the Hanshin-Awaji earthquake her course was interrupted once again, putting a halt to her established career in broadcasting and musical performance. Moving to Tokyo afforded her to keep her voice in the forefront fielding television commercials, hosting a radio show at InterFM which allowed for many narration oppotrunities with major companies ie. Mazda, All Nippon Airways (ANA) and Haagen Dazs.
In 2009, after successfully leading Voissalot Choir to the Apollo Theater in New York, Geila decided to concentrate her efforts on solo shows. In 2010, she earned the Grand-Prix title for the annual Kobe Jazz Vocal Queen Contest which entitled her to sing a highly acclaimed show at the renowned jazz club Jazz Alley in Seattle.
In October of the same year, she released her first solo album "All Me" which surprisingly became a mega-hit among jazz audiences. Print media feedback has also been very positive: from the top jazz magazines in Japan, Jazz Japan, Jazz Life and Jazz Hihyo [Jazz Review], as well as the national newspaper Asahi Shimbun dedicated two feature articles all giving high praise.
On September 21, 2011 Geila released her second solo album "Appearance" and toured throughout Japan. Her final live performance at JZ Brat in the Shibuya district of Tokyo was sold out and full of fans anxious to hear songs from the second album.
Zilkha's comment on her third album states, "I`ve never been more happier to record this album with 13 wonderful Jazz musicians in Japan. I love making music with Jazz musicians. For me, music is a plantation, and this plantation is made of Jazz. My ultimate hope is to plant and root music I grew up with in this jazz field and like a fruit of a flower, grow them together with Jazz musicians incorporating their experiences and love of Jazz to make music that has the essence of Funk, Soul, and Latin. In this album, I was able to bring out some of the best of myself and I even got to write and arrange some of the tunes."
"Day Dreaming" is the perfect title for Geila's new release, encompassing all the steps in her journey that has brought her to a place within herself that shines very bright. This collection of musical art designed directly from her soul is a must have experience for those that truly respond to musical story-telling that envelopes the camaraderie of the 'human experience' we call life" says Jaijai Jackson, Creator and Owner of The Jazz Network Worldwide.
Currently, Geila performs regularly at top jazz clubs and concert halls throughout Japan. She also teaches jazz vocals at Senzoku Gakuen College of Music on a regular basis.
Be sure to check out her feature this week on The Jazz Network Worldwide at http://www.thejazznetworkworldwide.com. To learn more go to her official website at http://www.geilajazz.com
##