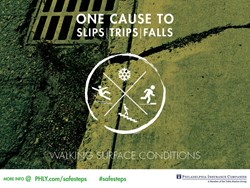 Failure to take simple risk management steps can lead to severe injury for individuals and put financial strain on a business or organization
Bala Cynwyd, PA (PRWEB) October 21, 2013
Slips, trips, and falls are no laughing matter. There are 8.9 million emergency room visits and 25,000 deaths each year due to slip, trip, and fall (STF) accidents, according to the National Safety Council. The Occupational Safety and Health Administration (OSHA) has identified STFs as the leading cause of injury and second leading cause of accidental deaths in the workplace.
Philadelphia Insurance Companies (PHLY) is providing businesses and organizations with a clear path to reduce the risk of these accidents by announcing "Safe Steps Week." To highlight the causes and simple, cost-effective solutions around slips, trips, and falls, PHLY is offering helpful information October 21st through October 25th to insurance agents, risk management professionals, and businesses at PHLY.com/SafeSteps.
"The combination of wet leaves, un-shoveled or icy sidewalks, and wet floors from these seasonal conditions all contribute to a greater risk for accidents as we head into the colder months," shared Mark Konchan, vice president of PHLY's Risk Management Services. "That's why PHLY's Safe Steps Week is an important reminder for everyone to think about proper safety measures now and hopefully year-round."
OSHA says that slips, trips, and falls are responsible for the second most (15%) of all accidental deaths in general industry accidents. Philadelphia Insurance is offering free resources at PHLY.com/SafeSteps to help everyone avoid this slippery slope.

Downloadable Prevention Guide highlighting causes and solutions to reduce the risk of STFs
Downloadable self-assessment checklist to prevent against STFs
Submit a safety question to PHLY online or schedule a one-on-one risk management consultation
PHLY will also share tips on Facebook, Twitter, and LinkedIn highlighting STF causes and solutions during Safe Steps Week with the hashtag #SafeSteps
"Failure to take simple risk management steps can lead to severe injury for individuals and put financial strain on a business or organization," said Konchan. "Employee injuries from falls can lead to missed time and productivity disruptions. Accidents that injure the public or customers can lead to high medical and legal defense costs. Just five minutes of time or a five dollar safety investment can save dozens of hours, thousands of dollars in the long run, and possibly someone's life."
PHLY's Risk Management Services department provides a wide selection of safety and training programs for policyholders around abuse prevention, employment practices, and other online training courses. These resources are free to PHLY customers who register online for a MyPHLY account.
About Philadelphia Insurance
Philadelphia Insurance Companies designs, markets, and underwrites commercial property/casualty and professional liability insurance products incorporating value added coverages and services for select industries. In operation since 1962, the Company, whose commercial lines insurance subsidiaries are rated "A++" (Superior) by A.M. Best Company and "A+" for counterparty credit and financial strength by Standard & Poor's, is nationally recognized as a member of Ward's Top 50 and one of the Top 150 National Workplaces. The organization has 46 offices strategically located across the United States to provide superior service. For more information, please visit http://www.phly.com.