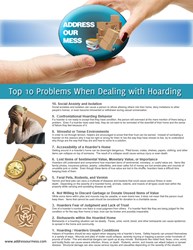 "Top Ten Problems When Dealing with Hoarding"... has been specially designed by hoarding ...technicians to help hoarders and their helpers focus on the key challenges of the condition.
Mount Laurel, New Jerey (PRWEB) October 21, 2013
Overcoming the painstaking encounters that a hoarder faces on a daily basis can be overwhelming. Whether a person suffering from the hoarding condition has had enough with their current situation, or if a friend or loved one is seeking help on their behalf, finding a practical place to start is nearly impossible.
Address Our Mess, an authority in the hoarding cleaning industry for over twenty years, has recently released a countdown of the "Top Ten Problems When Dealing with Hoarding." This countdown has been specially designed by hoarding and clutter cleaning technicians to help hoarders and their helpers focus on the key challenges of the condition.
By laying out these crucial challenges, those impacted by unsafe living conditions can develop useful solutions. In many cases, people do not even acknowledge that there is a looming threat to their health or to their homes. Hoarding can impact a person's life on many levels. Physical dangers, emotional and mental stresses, financial burdens, and social stigmas are all symptoms of the condition. The intentional separation a hoarder creates between themselves and their loved ones is their first challenge that must be addressed in order to experience a successful recovery.
Building a bond of trust is one of the most important steps in the Hoarding Do's and Don'ts process. Many barriers can be broken down when trust is built between hoarders and their helpers. Trust also makes it easier to cope with the eventual breakdown in communication, as hoarders tend to become confrontational during the recovery and hoarding clean up process. Creating an environment that is no longer overrun by stress and tension is key to making a breakthrough to the next level of treatment.
A few of the "Top Ten Problems…" deal with the massive amounts of clutter in a person's home as well as the valuables that may lay buried beneath the piles. To overcome these challenges, Address Our Mess has developed a three-step process for organizing and sorting items:

Trash/Garbage
Donations
Keepsakes/Collectibles
By adhering to these three decluttering tips, hoarders and their helpers will see amazing results while overcoming many of the challenges that lay before them.
The number one challenge outlined by clutter cleanup specialists in "Top Ten Problems…" is the presence of a multitude of unsafe conditions. Fire hazards can arise due to immense piles of clutter. Biohazards are created when rotted food, animal and human waste, or vermin and pests decide to nest in the clutter. Injuries and death can occur if hoarders or their families become trapped beneath fallen mounds of items.
It is important to recognize these dangers and to handle them appropriately.
According to Address Our Mess, Personal Protective Equipment (PPE) must be worn at all times when entering a hoarded home, especially in animal hoarding conditions. PPE such as goggles, N-95 respirators, coveralls, gloves, and boot covers are essential when avoiding potential biohazards. It is also noted in the countdown that structural damage to the property can also occur due to neglect or the presence of feral animals and vermin.
Hoarders and their helpers can stop this debilitating condition from impacting their lives by making a serious impact on the sanitary conditions of the home. By addressing the Top Ten Problems When Dealing with Hoarding, the road to recovery can become far easier to travel.