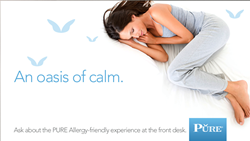 Our allergy-friendly rooms are especially popular with business travelers.
Orlando, FL (PRWEB) October 22, 2013
Hyatt Regency Orlando, formerly The Peabody Orlando, today announces it will offer 25 new hypoallergenic rooms installed by PURE Solutions.
Treated with a patented 7-step process to kill and protect against 99.9% of viruses and bacteria, PURE rooms virtually eliminate all surface and airborne irritants and create a hypoallergenic, refreshing and rejuvenating space for allergy-sufferers and health-conscious travelers alike.
"Our allergy-friendly rooms are especially popular with business travelers," said Brian Brault, CEO of PURE Solutions. "When you're away from home for a business meeting or conference, the last thing you want to worry about are allergy symptoms or getting a good night's sleep."
Area Vice President and General Manager of the Hyatt Regency Orlando, Tom Smith, believes PURE Rooms will distinguish the hotel by creating a new standard for hotels to promote health and wellness.
"Hyatt Regency Orlando offers guests the utmost comfort and relaxation. From business meetings and networking events to action-packed vacations exploring Orlando's world-famous attractions and entertainment, our new PURE rooms ensure Hyatt Regency Orlando guests are well-rested and invigorated."
PURE rooms complement Hyatt Regency Orlando's resort-like amenities, including its sparkling Grotto and Terrace Pools and full-service 22,000-square-foot spa, salon and fitness center. Providing this allergy-friendly room-type at Hyatt Regency Orlando, the company's largest meetings hotel attached to the 2.1 million-square-foot Orange County Convention Center, further demonstrates Hyatt's commitment to provide business and leisure travelers with the highest levels of comfort and service. PURE Solutions will begin installation on the 25 allergy-friendly rooms the week of October 21, with PURE rooms expected to be available at the end of the month.
For more information and reservations, please visit http://orlando.regency.hyatt.com.
About PURE Solutions
PURE Solutions, the innovative provider of hypoallergenic hotel rooms, is an advocate for asthma- and allergy-sufferers worldwide. PURE's patented 7-step process for converting ordinary hotel rooms into PURE Rooms eliminates and protects against 98-100% of viruses, bacteria and other airborne particles. This process creates an environment that is not only safer and more comfortable for people with allergies, but also provides a more relaxing and rejuvenating space for anyone who is travelling away from home. For more information about PURE Solutions, please visit their website at http://www.pureroom.com.
About Hyatt Regency Orlando
Hyatt Regency Orlando, a masterpiece of contemporary design and luxurious décor and furnishings, is the Orlando convention hotel of choice for the nation's professional meeting planners. Conveniently located in the midst of the 2.1-million-square-foot Orange County Convention Center and the only hotel located directly across the street from the center's main entrance, it features luxury hotel accommodations and is a national landmark hotel in the meetings and conventions industry.
The Orlando hotel exudes relaxed elegance and the warmth of Southern hospitality. The ideal location for association and corporate meetings and conventions, Hyatt Regency Orlando is located just a short drive from Walt Disney World, Sea World, and Universal Orlando and 15 minutes from Orlando International Airport (MCO).