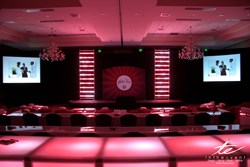 We wanted a look and feel that was very unconventional. In The Event took that description and presented a rendering that was a perfect interpretation of what we wanted.
Salt Lake City, UT (PRWEB) October 24, 2013
In The Event, a Utah-based event design firm, managed the HireVue annual meeting at the Salt Lake City Marriott City Center held August 5 through August 7. HireVue provides on demand digital interviewing services, and was looking to develop a non-traditional convention in alignment with the company's forward thinking culture. In developing this unconventional convention, In The Event deployed unique seating arrangements, LED interactive pieces, meditation sitting areas and highly engaging closing party entertainment, all aimed at creating a distinct and informative event for HireVue.
In keeping with the non-traditional theme, In The Event used LED bar configurations for the back two rows of seating. Attendees were given dry erase markers and encouraged to use the acrylic surfaces of the bar to write inspiring messages, brainstorm ideas and collaborate. The back row of seating consisted of white leather barstools, with the next consecutive row using black spandex covered chairs, also with a clear acrylic topped bar to be used as a writing surface. White leather lounge furniture was positioned in front of the bar configurations, complete with HireVue logoed pillows and LED coffee tables, which also served as a writing surface. Closer to the stage, In The Event provided oversized beanbags in HireVue's red logo color paired with LED side tables. Closest to the stage, meditation pillows with custom HireVue patterned covers were used to create a relaxing sitting area.
The staging was proposed by In The Event's team of interior designers, using 3D renderings throughout the approval process with HireVue. "We wanted a look and feel that was very unconventional. In The Event took that description and presented a rendering that was a perfect interpretation of what we wanted," says Sharline Andersen of HireVue. The stage was set with 8' high custom printed arched spandex walls with LED ladder lighting on both sides. To provide more branding for the meeting, In The Event placed the HireVue logo atop the spandex wall, creating a 3D effect. For the convention's closing party the room was re-set with the LED arch spandex walls positioned at the entrance. Linens were selected to correlate with the brand's colors, and centerpieces were assembled using LED light bases and cubes with a graphic cling of the HireVue logo.
The closing party entertainment was dueling pianos, amplified by In The Event's new wireless stage washing technology. The wireless stage washing components have the same functionality required for any on stage performance but all the equipment is wireless, allowing for much more flexibility. Additionally, In The Event utilized wireless LED par lighting with adjustable stands to further enhance the performance.
About In The Event
In The Event is a Salt Lake City-based contemporary event design company with full creative capabilities, comprised of a team of celebrated graphic, interior and floral designers. ITE services include event decor, florals, display and full-scale event production. ITE is the largest provider of LED modular systems in the state, including tables, bars, cubes, towers, dance floors and much more. Among the events ITE produces are themed and corporate events, product launches, fashion shows, dinner and incentive parties and award galas. ITE is proud to have the following clients in their portfolio of projects: 4 Life, Ray Ban, Teva, Ketchum Public Relations, Sundance Institute, and Fortune 500 companies to name a few. More information visit>>>http://www.intheevent.com.