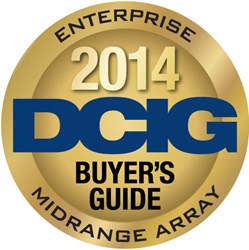 Our latest midrange array Buyer's Guide is the most comprehensive to date, and represents well over 100 specific array models. - Jerome Wendt
Austin, Texas (PRWEB) October 21, 2013
As certain as death and taxes, the growing amount of data continues to rise. According to one recent multi-university study of 26 corporations and large non-profits, the volume of data is expanding by 30% to 50% every year, in effect, doubling the data stored rate every two years. Yet, even as noted in the recent study, for many organizations, the budgets to support the growing amount of data continues to decline. It is with this certainty in mind that end users looking for ways to manage enterprise data growth turn to alternatives for their Enterprise data storage management needs and select midrange storage solutions.
Like data growth, end user expectations for enterprise classification also continue to rise. With the 2014 Enterprise Midrange Array Buyer's Guide, midrange arrays more than earn the designation with continuous availability, storage capacity and comprehensive features such as redundancy, data protection, snapshot and replication, at prices that are well within reach of mid-sized organizations.
"I don't think there's an end user I speak with that doesn't confirm that data growth far exceeds the revenue growth plans of their organizations," said Jerome Wendt, president and lead analyst, DCIG, LLC. "With that kind of pressure in mind, it's no surprise that users continue to look for ways to get the most out of their data management and protection investments; and why midrange arrays are taking on more and more enterprise class features, yet still remaining well within tight budget parameters. Our latest midrange array Buyer's Guide is the most comprehensive to date, and represents well over 100 specific array models. We know it will be an indispensable aid for users looking to eliminate unnecessary research cycles and best meet their specific needs."
For the newest Enterprise Midrange Array Buyer's Guide, DCIG, LLC evaluates more than 50 offerings from 19 companies. After an initial survey containing more than 150 questions was completed, product capabilities were assessed based on data provided by the vendor, prior DCIG research, and information available in the public domain. Products were then evaluated on more than 140 characteristics. After scores were compiled, products were ranked "Best-in-Class," "Recommended," "Excellent," "Good," or "Basic" across functionality and capability relative to the other products included in the Buyer's Guide.
The intent for this Buyer's Guide, as with all DCIG Buyer's Guides, is to provide an "at-a-glance" comparison from which end users can select the most appropriate solution for their existing needs. This Buyer's Guide also provides perspective on how solutions from less well known midrange array providers compare against established and better known brands.
The DCIG 2014 Enterprise Midrange Array Buyer's Guide Top 10 solutions include (in alphabetical order): Dell Compellent SC8000; Dell EqualLogic PS6100/PS6110; EMC VNX7500; EMC VNX5700; HDS HUS 150; HDS HUS VM; HP 3PAR StorServ 7400; NetApp FAS3250; Huawei OceanStor 5800T; and Starboard Storage AC4500.
The HP 3PAR StoreServ 7400 brings together the best of what both block and file have to offer: block storage services in the form of its 3PAR StoreServ family and file storage services with its 3PAR StoreServ File Controller earning the "Best-in-Class" distinction in this Buyer's Guide. HP 3PAR StoreServ 7400 stood out in the following ways from other arrays listed in the Buyer's Guide:

A single array can be scaled out to 4 mesh-active controllers managing up to 864 TBs of data
Offers HP 3PAR Peer Persistence and Remote Copy software to synchronously replicate data and then implement uninterrupted VM failover and failback without needing to implement a third party appliance or replication software
Has "Best-in-Class" features, yet carries a starting list price below $50,000—which puts it within reach of many mid-sized organizations
The DCIG 2014 Enterprise Midrange Array Buyer's Guide achieves the following objectives:
Provides an objective, third party evaluation of enterprise midrange arrays that evaluates and scores their features from an end user's perspective
Ranks each enterprise midrange array in each scoring category and then presenting these results in an easy to understand table
Provides a standardized data sheet for each of the midrange arrays so users may do quick side-by-side comparisons of products
Provides insights into what features midrange arrays offer to optimize integration into VMware environments, as well as support for other hypervisors and operating systems
Provides insight into which features on a midrange array will result in improved performance
Gives any organization a solid foundation for getting competitive bids from different providers that are based on "apples-to-apples" comparisons
"Meeting performance and reliability requirements, while keeping within budget, is a must for end users," added Wendt. "Knowing this, we incorporated data on integrated performance monitoring software and hooks on automation for provisioning and ongoing management of midrange arrays. We also took a hard look at alternative hypervisor support in addition to industry-leading support for VMware. We are seeing a trend gaining traction where organizations are intentionally implementing multiple hypervisors. We remain confident that DCIG Buyer's Guides can cut cost and time from the purchase process by enabling end users to focus their energy on product evaluations and competitive bid processes versus wasting cycles on determining what solutions may best fit their needs."
Disclosure and Methodology
DCIG identified 19 companies that provide enterprise midrange arrays, regardless of cost. Each array had to meet the following criteria:
Support either the Fibre Channel (FC) or iSCSI block-based protocol
Scale to support at least 60TBs of raw capacity
Support two controllers with some method of failover
Sufficient information available for DCIG to make meaningful decisions
Shipping as of September 1, 2013
No vendors, whether clients or not, were afforded preferential treatment in the Buyer's Guide. All research was based upon information provided directly by vendors, research and analysis by DCIG and other publicly available information.
It is worth noting that each Buyer's Guide is not intended to be a substitute for internal testing. DCIG encourages any organization that is considering the purchase of any solution included in a Buyer's Guide to do its own in-house testing.
Availability
The DCIG 2014 Enterprise Midrange Array Buyer's Guides is available immediately and may be downloaded for no charge with registration at the following http://dcigbuyersguides.com/.
Resources:
DCIG Blog: http://www.dcig.com
About DCIG
DCIG analysts provide informed, insightful, third party analysis and commentary on IT hardware, software and services.
DCIG independently develops and licenses access to DCIG Buyer's Guides that provide actionable intelligence through comprehensive, in-depth analysis of data center infrastructure product features. DCIG also develops sponsored content in the form of blog entries, case studies, product reviews, special reports and executive, standard and full-length white papers.
DCIG's research serves the need of C-level executives, IT managers, systems and storage engineers and architects for multiple industries as well as the needs of enterprise, SME, channel, reseller and service providers.