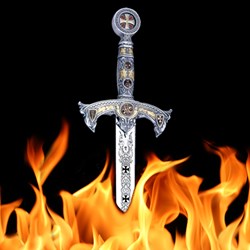 Los Angeles, California (PRWEB) October 23, 2013
New evidence now disproves earlier claims that the Chinon Parchment absolved the Vatican from blame in its attacks on the Knights Templar after 1307, as shown in the new book "Templars: The Rise, Fall & Survival of the Knights Templar."
Barbara Frale made those claims when presenting this manuscript she found in the Vatican Secret Archives. However historian Sanford Holst now presents additional documents in "Templars" that tell another story.
"Grand Master Jacques de Molay and other Templars were put on trial in 1308 at Chinon in France. This parchment recorded a plea-bargain in which they pled guilty to lesser forms of heresy in order to win reconciliation with the church," said Holst. "Other Templars did the same. Yet when they later renounced their confessions as false testimony, they were declared 'relapsed heretics' and put to death in flames."
So rather than exonerating the Vatican from guilt in the killing of the Templars, the Chinon Parchment and other documents shown in "Templars" mark the clear trail along which royal and religious leaders led these knights to their execution.
Sanford Holst is best known as the author of Amazon's #1 book on the Phoenicians, the people who helped build Solomon's Temple. That temple inspired the Templars and gave them their name.
"Templars: The Rise, Fall & Survival of the Knights Templar" also follows the remarkable paths taken by those who survived these attacks on the Templar Order. This book was published on September 16, 2013, in the USA and Europe.