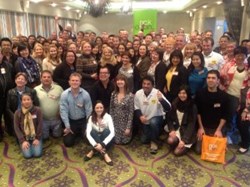 ...a lot of first home buyers, who keep on using the traditional process, are locked out of the housing market right now,
(PRWEB) October 21, 2013
"One lesson that Aussies should take away from the global financial crisis is that it's about time to stop relying solely on new home loans just to get into the property market," said Rick Otton, the man who introduced creative real estate strategies in Australia.
The Australian Bureau of Statistics' August 2013 data on home mortgage lending found that only 13.7 percent of new loans were issued to first home buyers, compared to 28.4 percent in 2009. Financial Review also reported on 14 October 2013 that the number of new mortgage loans have been on a decline for the last 4 months.
"The chances of first home buyers to get approved for a home loan have greatly dropped after the global financial crisis. The truth is that the banks have less money to lend to loan applicants, that's why they applied stricter qualifications for people who are applying for new home loans," according to Mr. Otton in a recent interview for his Newcastle property event.
"Aside from that, those who do qualify for a loan are faced with the challenge of saving up a large amount of deposit or down payment for the new loan they applied for, and this might take a long time to finish given that house prices are going up faster than rise of regular pay," he added.
"With these kinds of odds stacked against the home buyer it's not a surprise that a lot of first home buyers, who keep on using the traditional process, are locked out of the housing market right now," he said.
Mr. Otton recommends first home buyers learn and use creative real estate strategies when purchasing Newcastle real estate. He also explains that it not necessary to apply for a new home loan or save up for a large amount of deposit.
"What the data says is that new home loans are hard to come by, but it doesn't mean that all loans are out for reach for home buyers. With the help of a creative strategy called 'Sandwich Lease option' they can still use old loans as the keys to their first Newcastle property by simply substituting the seller in making the payments on the loan they have," Mr. Otton shared.
Discover more creative solutions for your property problems in Rick Otton's upcoming Newscastle real estate event on 29 October 2013.
Don't miss this last chance to attend Mr Otton's live seminar this 2013, log on to http://www.howtobuyahouseforadollar.com/ now to get a free seat!
About Rick Otton
For over 23 years property millionaire Rick Otton has built an impressive real estate portfolio using innovative strategies that he has developed - strategies in which transactions are made without the need for traditional bank-type loans. He constantly refines his techniques as he buys and sells properties through his We Buy Houses business which operates in Australia, New Zealand and the UK.
A gifted speaker and educator, Mr Otton conducts regular one-day free seminars across Australia, which build on the the concepts he shares in his 2012 book 'How To Buy A House For A Dollar', voted by Money Magazine and Dymocks Book stores as one of the Top 10 Most Popular Finance Titles for 2013.
He regularly records and publishes iTunes podcasts via his channel Creative Real Estate.
His innovative low-risk, high-reward approach to Australian real estate investing has been featured in a variety of television programs and magazines, including Today Tonight, Hot Property and Australian Property Investor.
To register for one of Mr Otton's free Australian one day seminars visit HowToBuyAHouseForADollar.com.au or phone, in Australia, 1300 888 450