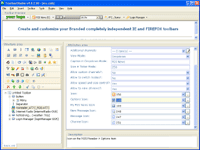 Our new ToolbarStudio Chrome Edition does just that, meaning businesses can build bespoke toolbars finely tuned to Chrome in minutes.
Alexandria, VA (PRWEB) October 21, 2013
BestToolBars has announced the launch of a brand new product based on its bestselling ToolbarStudio. The ToolbarStudio Chrome Edition is packed with just as much functionality as its predecessor, providing businesses with a quick, easy and streamlined way of building dynamic Chrome toolbars in just a few minutes.
Available now, ToolbarStudio Chrome Edition allows businesses of all shapes and sizes to capitalize on the popularity of the browser and build custom toolbar element such as menus, buttons and checkboxes with no prior coding knowledge required. The new software uses a WYSIG front-end, also known as What You See is What You Get, for supreme ease of use, which means users can create a new toolbar for Chrome by simply dragging and dropping tools onto the panel.
ToolbarStudio Chrome Edition was developed in response to demand from Besttoolbars clients who have used the original version of the platform to build custom browser toolbars for Internet Explorer and Firefox. The Chrome version of the software offers a visual editor for complete ease of use.
The first released version of Toolbar Studio Chrome Edition includes a host of useful features including a search field, displaying rotating banners and Facebook and Twitter widgets. Basic UI controls like drop-down menus, buttons, checkboxes are quick and simple to add while Custom/Dynamic XML that allows developers to change the contents of their toolbar based on JavaScript from a webpage and implement advanced interactive toolbars. The custom JavaScript can run on BeforeNavigate, DocumentComplete events or be used for button clicks on the toolbar to trigger actions.
ToolbarStudio Chrome Edition is powerful, intuitive and designed to make toolbar design fluid. Vladimir Zhukov, Head of Marketing at Besttoolbars, said, "Chrome is rapidly becoming one of the world's most used browsers. It seems to gain market share each quarter and we know that this is of interest to our clients. With the demand for toolbars so high and the Chrome browser dominating on the global market, it made sense for us to develop a new product, based on our well known ToolbarStudio, which is totally aligned with Chrome and its users.
"We wanted to provide our customers with the same easy to use interface and full functionality that our existing ToolbarStudio offers for IE and Firefox, but designed specifically for Chrome to reflect its emerging status as a browser leader. Our new ToolbarStudio Chrome Edition does just that, meaning businesses can build bespoke toolbars finely tuned to Chrome in minutes."
To find out more about Besttoolbars, please visit http://www.besttoolbars.net.
About Besttoolbars: Besttoolbars is a company well known for creating browser toolbars and add-ons. It has worked with an array of global brands, from start-ups to high-profile Fortune 500 corporations including Amazon, Skype, IBM, DHL, TNT and Intel. More than 7000 companies currently use solutions created on the Besttoolbars platform. Its product line includes:
Add-ons Framework: Framework for building add-ons for Internet Explorer, Firefox, Chrome, Safari, and Opera.
Besttoolbars also offers a number of services to help businesses integrate their products with desktops and mobile phones. It provides custom browser development, add-ons, add-ins and mobile app development.