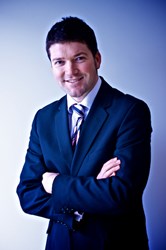 " I'll use examples from history of medicine on why anesthetic had rapid uptake but doctors wouldn't wash their hands. How Bangladesh was able to stop Cholera, but similar countries could not."
(PRWEB) October 23, 2013
His presentation, entitled, "Lead Change for Better Results Faster: How to Create & Exploit Positive Change and Continually Raise the Bar," will help healthcare leaders driving productivity improvements to achieve new performance goals more rapidly than ever before, covering the following topics:

The importance of top leadership.
The biggest challenge in creating change.
How to engage the frontline.
The three routes to change, two of which don't work.
Daniel notes as part of his presentation, "I'll use examples from history of medicine on why anesthetic had rapid uptake but doctors wouldn't wash their hands. How Bangladesh was able to stop Cholera, but similar countries could not."
About Daniel Lock
Daniel Lock is the principal of Daniel Lock Consulting, a firm specialising in helping organisations unlock hidden value through to achieve new heights of success through process improvement and change management.
Daniel has worked with Westpac, National Australia Bank, Macquarie Bank as well as numerous smaller organisations helping them to improve processes, operations, department re-organizations and department amalgamations.
Daniel is a regular speaker and board member on NSW Change Management Institute, and has had his work published in CIO.com.au, Process Excellence Network, and Corporate Learning Network to name but a few publications.
The facilitation of strategy formulation, implementing innovation strategies, process improvement and coaching in creative and innovation thinking skills has been numbered amongst his work.
For more information, please visit: http://daniellock.com/.
End end end
Contact:
Daniel Lock
Principal, Daniel Lock Consulting
+61 413 033 703