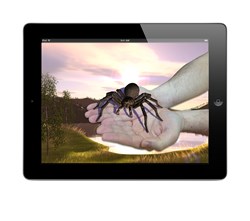 This could not have come at a better time. Phobia Free is free this month in support of Anxiety UK. This nomination will give it more visibility and reach more people who want to overcome their phobia
London (PRWEB UK) 24 October 2013
Virtually Free Ltd, a UK-based start-up, announces the TIGA Games Industry Awards nomination of its app for iPhone and iPad Phobia Free. Phobia Free was released in June 2013 and is available in the app store. The app uses games and augmented reality to help people with an extreme fear of spiders. The app delivers exposure therapy in the form of interactive games featuring progressively more realistic spiders. The spiders are usually trapped in situations that the person with spider phobia might find scary like in the bath or inside their coffee tin. Players help the spiders get to safety and in the process they become less fearful. At the end players confront an augmented reality tarantula they can hold in their hands.
The nomination coincides with a campaign Anxiety UK, the UK's leading anxiety disorders charity, is running alongside Virtually Free. The campaign is called Face your Fear for Halloween and it is getting people to do just that. The campaign is also raising funds for the charity in the process. Autumn is a difficult time for people who are scared of spiders as there tend to be more spiders about and also lots of trick or treaters use fake spiders to scare people during Halloween. The campaign asks people with spider phobia come forward and get sponsored by their family and friends to face their fear. Phobia Free is free to download for the rest of the month of October so that people suffering from arachnophobia can use it to face their fear and overcome the fundraising challenge that way. More details on the challenge can be found following this link.
Dr Russell Green, Virtually Free's COO, said 'We are very pleased with the nomination. We are also running for Game of the Year, which is based on popular vote. We are asking people to vote for us there. We are the absolute underdogs but if we win we will be able to raise the profile of anxiety disorders even more.'
'It is fantastic that the industry recognises "serious" games as a category. Games are very engaging and if we can channel that engagement into helping people help themselves get better then everyone wins. Thanks to TIGA's recognition of this important new trend we hope many developers will focus their skills on more than pure entertainment,' said Richard Flower, Virtually Free's CTO.
'The nomination could not have come at a better time. Phobia Free is free this month in support of Anxiety UK and hopefully this nomination will give it more visibility and reach more people who want to overcome their phobia and help others struggling with anxiety disorders,' said Dr Andres Fonseca, Virtually Free's CEO
About Virtually Free Ltd
Virtually Free develops apps to make therapy more appealing, accessible and affordable. Using gamification, serious games and augmented reality it seeks to recreate therapies used in clinical practice and bring them to mobile devices.
Founded in 2012 by two psychiatrists (Dr Andres Fonseca and Dr Russell Green) and a games developer (Richard Flower). It has previously released Stress Free, an application that teaches 4 different relaxation techniques with fully voiced-over animations.
Dr Green and Dr Fonseca are members of the Royal College of Psychiatrists in Britain and have been helping patients recover from mental health conditions for 15 years. They have also published research in peer-reviewed journals and lecture at Sheffield University and University College London respectively.
Richard has been involved in the video games entertainment industry for 20 years and has worked on major franchises. He was part of the core programming team on Tomb Raider for over 5 years.