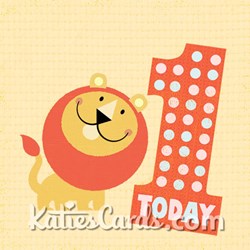 (PRWEB) October 22, 2013
Katie's Cards, premium online Ecard provider, are launching a line of 1 – 10 year old - children's birthday Ecards. The new range of children's cards will stand as a new addition to the large collection of existing birthday ecards on the Katie's Cards website and are created to appeal to each specific milestone birthday. Each card is unique, displaying vibrant colours, designs, animals and characters, depending on the year it is celebrating. Previews of each Ecard, starting with the 1st birthday card, are being posted to the Katie's Cards blog, including initial working sketches of all the fun animations, offering subscribers the chance to view the development process.
Every birthday in a young child's life is a milestone, each year being an important stage in their development, and Katie's Cards new range of birthday E-cards celebrates that. The family run company have created the children's range with an intention to expand it in 2014, moving up through the teenage years and adult milestone birthdays, which, of course, are equally as important. The new additions join the large birthday ecard collection which provide a low cost, high quality and eco-friendly solution to your birthday card needs.
The fun cards have been developed by the team at Katie's Cards with a different design and animation for each age. The ecards are tailored to appeal to the specific likes and interests, whether you're 1 or 10 years old. For the younger ages, vibrant and colourful ecards feature a variety of different animals including cheeky monkeys, fishy friends and cute cats al playing next to the all-important age number. The 'Happy 6th Birthday' card in the birthday ecard collection is a fun and simple, yet charming animation. It features two small astronauts, a boy and a girl, floating around in space with their suits on as a happy birthday message is delivered with a huge number six made from a beautiful galaxy of stars. The age seven ecard is highly colourful, depicting a beach scene and two young pirates with fun eye patches, pirate hats and swords. Underneath the happy birthday message is a number seven encrusted with red, green and yellow sparkling diamonds. Children's birthdays, particularly between the ages of 1-10, are highly important with each year bringing exciting developments and accomplishments.
"We've loved making this range of cards," says Katie. "Working on these designs for young children with my team means we get to have some fun coming up with the ideas and characters, every age gets something suitable for the occasion."
Katie's Cards is a small, high quality ecard company that have created over 250 different e cards to suit all occasions, tastes and ages that you may have to celebrate. Katie's Cards collection offers a wide range to make sure your needs are met. They charge a small subscription fee in return for unlimited access to every card available to view on the website and are adding new cards and game-cards all of the time. For more information and to preview the cards visit katiescards.com/.
For more information:
Telephone: +44 208 274 2069
Facebook: facebook.com/Katies.ecards
Twitter: twitter.com/#!/katiedavies
Copyright information: This article is free for reproduction but must be reproduced in its entirety, including live links & images; this copyright statement must be included. Visit katiescards.com for more services!