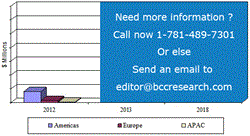 Wellesley, MA (PRWEB) October 22, 2013
According to a new technical market research report, Picoprojectors: Technologies and Global Markets from BCC Research (http://www.bccresearch.com), the global market for picoprojectors was valued at $ 491.4 million in 2012 and is expected to reach $776.1 million in 2013. BCC Research projects the market to grow to $5 billion by 2018, and register a five-year compound annual growth rate (CAGR) of 44.9% from 2013 to 2018.
Recent advances in imaging technology have allowed for the introduction of handheld (pico) video projectors. Picoprojectors comprise a variety of projection techniques, including light processing (DLP), liquid crystal on silicon (LCoS) and laser beam steering (LBS), as well as the critical components of the light sources, specifically high brightness light emitting diodes (HB-LEDs) and laser diodes. Each has its own advantages and disadvantages, however, all bring the capabilities of full-scale projection to a handheld or smartphone/tablet-integrated size, freeing the user from carrying heavy equipment and enabling novel applications of projection.
Embedding picoprojectors in smartphones have allowed individuals to view their applications on a larger screen, giving phone companies an edge in the hugely competitive market. The availability and commercialization of picoprojectors has primarily affected the consumer and office projector market segment, with consumers and small businesses that don't need high-powered equipment choosing to buy a smaller, cheaper picoprojector instead.
Picoprojector technology has distinct applications in sectors as diverse as healthcare, manufacturing, and aviation. According to BCC Research, growth in this market will be driven by increased research and development spending, consumer demand for more portable devices, and the increasing integration of picoprojectors in mobile handsets.
This report examines how picoprojector technology is being used in these sectors as well as the likely trends for its future uses. This study provides a comprehensive overview of the picoprojectors markets, including the projection components, lighting components, consumer-ready projectors, industrial uses, current markets, and players involved in the market. It presents forecasts for each major market segment through 2018 and presents in-depth analyses for the global picoprojector industry structure, including detailed information on major players and markets for each application. In addition, this study describes various projection and light source technologies, new developments and recent patents, advantages and limitations of currently used techniques, and profiles of all global players involved in this industry.
This comprehensive analysis is intended for those involved in developing, manufacturing, and supplying picoprojectors and picoprojector components, manufacturers of high-powered light usable in picoprojectors, producers of Micro-Electro-Mechanical Systems (MEMS) and Optical MEMS, and companies involved in developing new optical systems and light sources. It will also benefit systems and tools providers involved in training and surgical instruction, rehabilitative care and systems providers involved in developing advanced patient feedback mechanisms, and industry leaders working on building better on site instructional systems for manufacturing and repair, as well as government and military agencies in need of on-site briefing capabilities. Finally, this report will prove invaluable to venture capital companies and financial institutions interested in new and attractive investments.
Source: http://www.bccresearch.com/pressroom/smc/global-market-picoprojectors-grow-$5-billion-2018