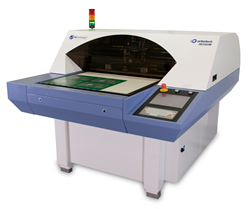 We must ensure top performing production equipment and modern processes in all facilities. This makes utilizing Orbotech technology a logical decision." - Mr. Arduino Pattaro, President of Tecnomaster
(PRWEB) October 21, 2013
Orbotech S.A., the European subsidiary of Orbotech Ltd., a leading global provider of yield-enhancing and production solutions for printed circuit boards (PCBs) and IC substrates, today announced that Tecnomaster Group has purchased an additional Sprint™ inkjet printer for use in its newly acquired company, LPP GmbH in Germany. Tecnomaster now utilizes Orbotech's Sprint technology in production in all of its three facilities (Italy, France and Germany).
Commenting on the announcement, Mr. Arduino Pattaro, President of Tecnomaster, said: "Our goal is to maintain a high quality standard and unified process throughout our manufacturing operations. The acquisition of LPP is of major strategic importance to the company, enabling us to capture 80% PCB market coverage in Europe. To meet the demanding requirements of our customers, we must ensure top performing production equipment and modern processes in all facilities. This makes utilizing Orbotech technology a logical decision."
Mr. Hadar Himmelman, President of Orbotech West, said "With its recent acquisition of LPP and continued investment in capital equipment, Tecnomaster is moving forward with its growth initiatives as a leading PCB manufacturer in Europe. We are pleased to be able to support their strategic goals and further progress with best-in-class technology solutions. "
About Tecnomaster Group
Tecnomaster Group, a European holding company born from the integration between Tecnomaster Spa, SOS Electronic Engineering, LPP GmbH and Tecnomaster International Ltd (Far East), is one of the major players in the printed circuit board sector both in Italy and Europe. Tecnomaster Group has established quickly in Europe and today, thanks to three production plants located in the heart of Europe and an efficient network of agents, it offers a broad portfolio of printed circuit boards, with uniform production standards performed in all its facilities with LDI (Laser Direct Imaging) print, automation, process quality, certifications, and autonomy in making of all types of surface finishes. Tecnomaster Group is the first Italian group present in and able to closely supervise three strategic European markets (Italy, France and Germany). A strong acceleration of investments has led to excellent results with the acquisition of the French company SOS Electronic Engineering in 2009 and the German LPP at the end of 2012 which gives a further boost to growth and strength of the group. Visit http://www.tecnomastergroup.com.
About Orbotech Ltd.
Orbotech Ltd. (NASDAQ/GSM: ORBK) has been at the cutting edge of the electronics industry supply chain, as an innovator of enabling technologies used in the manufacture of the world's most sophisticated consumer and industrial products, for over 30 years. The Company is a leading provider of yield-enhancing and production solutions, primarily for manufacturers of printed circuit boards, flat panel displays and other electronic components; and today, virtually every electronic device is produced using Orbotech technology. The Company also applies its core expertise and resources in other advanced technology areas, including character recognition for check and forms processing and solar photovoltaic manufacturing. Headquartered in Israel and operating from multiple locations internationally, Orbotech's highly talented and inter-disciplinary professionals design, manufacture, sell and service the Company's end-to-end portfolio of solutions for the benefit of customers the world over. For more information please see the Company's filings with the U.S. Securities and Exchange Commission (the "SEC") at http://www.sec.gov and visit the Company's corporate website at http://www.orbotech.com. The corporate website is not incorporated herein by reference and is included as an inactive textual reference only.