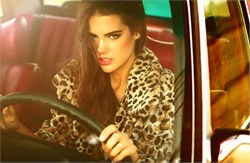 "Facebook and other social media platforms are essentially the cheapest and most effective form of getting the word out there about your business"
New York City, NY (PRWEB) October 24, 2013
Kelsey Aida Roualdes Talks to ProfileTree about her Make Up business, Aida's Loft, in an interview released today.
When it comes to her inspiration behind becoming a makeup artist, Kelsey says "I am a very visual artist and I like to make things beautiful with my hands. Enhancing people's beauty is the best art form because people always react and appreciate your work more than any canvas would."
She advises anyone starting a business "to take risks and not be afraid to make mistakes. Just go for it and you will learn along the way. You will fail, so start failing as fast as you can so your successes can come even faster."
Her ultimate goal is becoming "An amazing editorial freelance artist in New York City. Meaning I would work on the most gorgeous models for the most prestigious designers whether it be at a fashion show or for an AD campaign. I want to see my work on the cover of vogue and walking the runway during Fashion Week."
Kelsey swears by referrals as a marketing method "As with any personal service, referrals are the most important marketing strategy! The easiest (and cheapest) way to encourage referrals is to give all your clients at least 5 business cards so that they can tell their friends about how you changed their life for the better. Then those friends tell their friends, and so on."
Ciaran Connolly, Co-Founder of ProfileTree says "Facebook and other social media platforms are essentially the cheapest and most effective form of getting the word out there about your business"
Profile Tree's main goal is to help small business owners reach new customers every day with the most innovative online marketing tips and techniques.
About ProfileTree: ProfileTree is a free listing service where self employed and small business owner can create an online marketing profile. From Pencil or Portrait Artist to Self Employed Service Providers - anyone can create a skills profile on ProfileTree for free.
The website also enjoys sharing motivation photos for the self employed, helping with focus and drive. From professional wedding photographers to anyone offering a service - it can be listed online today.