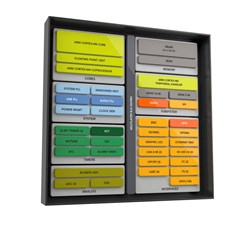 Eindhoven, Netherlands and San Jose, California (PRWEB) October 21, 2013
NXP Semiconductors N.V. (NASDAQ: NXPI) today introduced the high-performance LPC4370 microcontroller – a complete solution for high-speed data acquisition applications available on a single chip. Powered by a 204-MHz ARM® Cortex™-M4 processor – the fastest in the industry – the LPC4370 also features the fastest 12-bit ADC available on a Cortex-M microcontroller today with a sampling rate of 80 Msps. In addition, the LPC4370 has a 204-MHz Cortex-M0 co-processor for offloading control and I/O tasks like handling USB stacks, as well as a dedicated subsystem for handling programmable digital I/O and pre- or post-processing. Advanced peripherals include Hi-Speed USB with on-chip PHY and Ethernet for high-speed communications, and a graphics LCD controller for display interfacing.
Demanding data acquisition applications such as spectrum analysis, current measurement, digital signal processing, audio streaming / processing, and analytical instrumentation typically require multiple chips for input, processing and output. The LPC4370 breaks new ground by integrating this functionality in a single chip, eliminating data bottlenecks, improving power efficiency and noise performance, as well as reducing the overall PCB footprint, cost and application complexity. The multi-core architecture of the LPC4370 also offers simplified algorithm partitioning. With its large SRAM and flexible memory expansion, the LPC4370 allows system designers to tailor the memory type and size to their specific application requirements.
"Our new LPC4370 takes NXP's industry-leading microcontroller performance and integration to the next level – creating a single-chip solution for high-speed data acquisition applications," said Ross Bannatyne, general manager, mass market microcontroller product line, NXP Semiconductors. "With an integrated 80-Msps 12-bit ADC, the LPC4370 provides a competitive edge in high-speed analog data conversion and opens significant possibilities in streamlining data acquisition, processing and communications for a wide range of data-intensive applications."
The LPC4370 is pin-compatible with all LPC4300 and LPC1800 series microcontrollers in similar packages. LPC-Link 2, the standalone debug adapter introduced by NXP in April 2013, is based on the LPC4370 microcontroller.
"We've been impressed with the performance of the LPC4370," said Anders Rosvall, technical director, Embedded Artists, "particularly the Serial GPIO peripheral which is great for digital I/O handling and the new 80-Msps sampling rate of the 12-bit ADC. These new features make the LPC4370 an excellent choice for data acquisition applications. Our Embedded Artists' LabTool is a powerful development tool because we have been able to make the most of the rich peripherals available on the LPC4370."
The LPC4370 is available immediately at a suggested unit price of US $3.96 in quantities of 10,000 units. The LabTool is available from Embedded Artists or NXP authorized distributors under product no. EA-XPR-202.
Links

Information on the NXP LPC4370 microcontroller and development tools:
http://www.nxp.com/pip/LPC4370FET256 http://www.nxp.com/pip/LPC4370FET100

About NXP Semiconductors
NXP Semiconductors N.V. (NASDAQ: NXPI) creates solutions that enable secure connections for a smarter world. Building on its expertise in High Performance Mixed Signal electronics, NXP is driving innovation in the automotive, identification and mobile industries, and in application areas including wireless infrastructure, lighting, healthcare, industrial, consumer tech and computing. NXP has operations in more than 25 countries, and posted revenue of $4.36 billion in 2012. Find out more at http://www.nxp.com.
Forward-looking Statements
This document includes forward-looking statements which include statements regarding NXP's business strategy, financial condition, results of operations and market data, as well as other statements that are not historical facts. By their nature, forward-looking statements are subject to numerous factors, risks and uncertainties that could cause actual outcomes and results to be materially different from those projected. Readers are cautioned not to place undue reliance on these forward-looking statements. Except for any ongoing obligation to disclose material information as required by the United States federal securities laws, NXP does not have any intention or obligation to publicly update or revise any forward-looking statements after NXP distributes this document, whether to reflect any future events or circumstances or otherwise. For a discussion of potential risks and uncertainties, please refer to the risk factors listed in NXP's SEC filings. Copies of NXP's SEC filings are available from the SEC website, http://www.sec.gov.