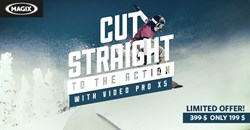 "What sets the program apart from others in this price segment is its combination of unique functionality with ease of use and an intuitive workflow." Sven Kardelke, MAGIX VP of Video Product Management
(PRWEB) October 21, 2013
MAGIX Video Pro X5, the video editor created for action packed needs of extreme sports videos, is available for $199 from 18.10.2013 through 13.12.2013. The program features an intuitive interface packed full of professional post production editing tools. Beginners and Ultra Ambitious Editors alike are able to create high quality results.
The primary and secondary color correction options enable users to give nature their own artistic flair with custom and preset color editing functions. Dynamic slow motion and fast motion sequences can bond frames to create the g-force feeling of heavy acceleration & deceleration. Shakey images can be corrected with compensation using the intelligent image stabilization system.
The program is suitable for editing outdoor sports footage such as mountainbiking, motorcross, rafting, snowboarding, surfing, climbing or trail running.
Another highlight is the Multi Cam function which combines up to 9 different perspectives on one screen. Video Pro X5 boasts full 4K and HD video support and easily inputs footage from GoPro ®, CamOne ®, and all other popular Actioncams. The sophisticated proxy editing system counterbalances to generate the best possible performance at all times especially while working with large files.
Sven Kardelke, MAGIX Vice President of Video Product Management says, "Video Pro X5 successfully occupies a niche between affordable consumer video software and 'hardly affordable' Pro solutions. What sets the program apart from others in this price segment is its combination of unique functionality with ease of use and an intuitive workflow."
More details see http://www.magix.com/cutstraight