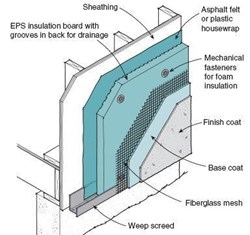 (PRWEB) October 21, 2013
Today, the requirement for high quality custom EIFS (Exterior Insulation and Finish System) fasteners is great. Recently, Wuxi Glory Plastics, a reliable supplier of plastic injection molding service, has released its new collection of Polymer Based (PB) EIFS fasteners (http://www.plastics-molding.com/EIFS_PB_Washer.htm). These high quality items are available at greatly discounted prices now.
As an industrial leader, Wuxi Glory offers many different EIFS (Exterior Insulation and Finish System) fasteners; its fasteners are one of by far the most reliable and advanced EIFS mechanical fastening systems in the molding industry. Its patented "Polymer Based (PB) EIFS Fasteners" allow easy, efficient backing out of any screw, saving energy, time and money for every customer.
According to a senior engineer of the company, these fastener is specially designed and engineered for use with polymer based (PB) EIFS. It allows the attachment of EPS insulation to a variety of substrates, including lite metal, steel, wood and masonry.
"Our EIFS fasteners can be applied regardless of weather conditions; they are not temperature-sensitive like basecoat applications. Our designs continue to set the industry standard for attaching EIFS. You can absolutely save time and money here if you buy our pre-assembled fasteners. Visit our website now, and decide your order as soon as possible please," states the CEO of the company.
Wuxi Glory Plastics engaged in developing and manufacturing custom molded plastic product in China by taking advantages of our relatively low labor costs. We have most experienced workers in China, If you're looking for product design, engineering, prototyping, and mass production, Glory plastics can always find a solution for you. For more about our products and services please visit http://www.plastics-molding.com.