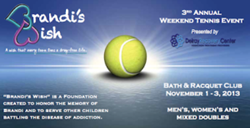 Delray Beach, FL (PRWEB) October 21, 2013
The Delray Recovery Center is presenting the Brandi's Wish Foundation's 3rd Annual Weekend Tennis Event. The event will take place from November 1st to November 3rd, 2013 at the Bath & Racquet Fitness Club, 2170 Robinhood St., Sarasota, Florida.
As part of the weekend event, Sarah Gentry, LMHC, CAP, the Clinical Director of The Delray Recovery Center, will be speaking at The Silver Lining Summit. The VIP event will be held on Friday, November 1st from 6:00 pm to 7:00 pm at The Francis in Downtown Sarasota, 1289 N. Palm Avenue, Sarasota, Florida. The Silver Lining Social benefit dinner will immediately follow from 7:00 pm to 10:00 pm. Guests are welcomed to participate in the benefit dinner featuring guest speakers, as well as live and silent auctions.
Gentry will be among other influential community leaders, industry representatives, policy makers, and treatment specialists at the roundtable discussion. She will lend her expertise on current issues surrounding young adults and addiction. She has spent more than a decade treating people suffering from chemical dependency, trauma, eating disorders, and co-occurring disorders. As The Delray Recovery Center's Clinical Director, Gentry develops individualized treatment plans that help clients effectively move through the center's 5 phase step-down continuum of care.
Founded in March 2011, Brandi's Wish Foundation is dedicated to educating and providing preventative solutions to teens and their families regarding the dangers of prescription drug misuse and abuse.
"I am excited to support Brandi's Wish in their fight against addiction," said Gentry. "I am grateful to help provide awareness, prevention, and treatment to help young people achieve a life of hope and healing."
Located in Delray Beach, FL, The Delray Recovery Center offers individualized treatment programs for alcohol and drug addiction, as well as co-occurring mental health disorders. The Delray Recovery Center believes in a long-term treatment model, where patients go through a 5-phase step down continuum of care, allowing them to develop the tools necessary to achieve long-term recovery.
Proceeds from these events are to benefit the Brandi's Wish Foundation. For more information, or to register, please visit Brandi's Wish Foundation.