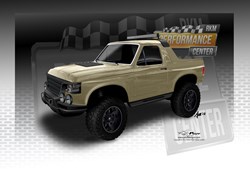 Florence, SC (PRWEB) October 21, 2013
ESAB Welding & Cutting Products is proud to help sponsor Operation Fearless, the 1991 Ford Bronco build project underway at the RK Motors Performance Center in Mooresville, NC to honor fallen Navy SEAL hero Adam Brown. Operation Fearless will transform Brown's 1991 Ford Bronco into a fully-outfitted super truck, which will be presented to his family in his honor at a private ceremony at the RK Motors Charlotte showroom in Charlotte, NC.
Adam Brown was awarded the Silver Star Metal for Heroism for his bravery in sacrificing his life to save the lives of several members of his assault team. Brown was a 12-year veteran of the United States Navy, with numerous tours of duty overseas. He is survived by his wife and two children.
Operation Fearless was established to rebuild/restore Brown's first car, which Brown had dreamed of one day passing down to his son. The Bronco build will feature a number of custom components in his honor. It will receive a new high-performance motor, new transmission, all-new fiberglass body, one-off interior, oversized wheels/tires, and more.
For the welding and cutting operations of the Bronco build, ESAB contributed a number of high performance machinery and personal protection equipment, including Caddy® Mig C200i and new Heliarc® 281i welding machines, MigMaster™ 280 Ready-To-Weld package, PowerCut® 900 manual plasma cutting machine, and Purox Elite Metalmaster III gas cutting outfit, and more.
"Adam Brown's life and ultimate sacrifice for his country and the fellow members of his unit is the story of a true American," said Sue Bartholomew, Director of Global MARCOM for ESAB. "ESAB is proud to team with MyClassicGarage and other sponsors to contribute to this worthy project that honors his legacy."
Brown's remarkable story has been widely broadcast in the news and in print and his life and sacrifice is documented in the book Fearless, authored by New York Times Best Seller Eric Blehm. To find out more about Operation Fearless, visit https://myclassicgarage.com/social/profile/operation-fearless.
MyClassicGarage, Charlotte, NC, an affiliate company of RK Motors, LLC, provides classic car collectors with an array of tools to track and manager their classic car collection.
RKM Performance Center specializes in building, restoring and servicing classic and high performance cars. Founded in 2010 by Robert Kauffman, co-owner of Michael Waltrip Racing, and Joseph M. Carroll, founder of Best of Show Automotive, the RKM Performance Center is the exclusive service provider to RK Motors Charlotte, but can also build, restore or service cars for customers worldwide. The 40,000 sq./ft. facility features a fabrication shop, upholstery shop, two paint booths, ten lift bays and a parts department. Additional information is available at http://www.RKMPerformanceCenter.com.
ESAB Welding & Cutting Products is a recognized leader in the welding and cutting industry. From time-honored processes in welding and cutting to revolutionary technologies in mechanized cutting and automation, ESAB's welding consumables, equipment, and accessories bring solutions to customers around the globe. For more information, visit http://www.esabna.com or call 1-800-ESAB123.