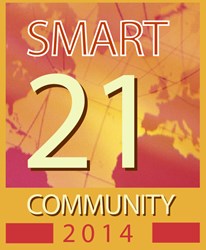 The cities and towns of the Smart21 use innovative ideas, broadband resources and hard work to improve local economic and social conditions.
New York, New York (PRWEB) October 21, 2013
The Intelligent Community Forum names the world's Smart21 Communities of 2014 and this select group of communities is now in contention for the prestigious designation of Intelligent Community of the Year in June 2014.
"Once again the cities and towns on the Smart21 list have impressed us with their ability to use innovative ideas, broadband resources and hard work to improve local economic and social conditions," said Intelligent Community co-founder Louis Zacharilla. "Not surprisingly, there are many repeats on the list, which means that continuous and sustained improvements are taking place. Building great communities is a long process." Only 126 communities around the world have been named an Intelligent Community over the past 16 years.
Zacharilla also notes that the United Nations Habitat agency stated in its 2012-2013 State of World's Cities report that there's been a lopsided focus solely on economic growth that cannot be sustained and has created inequalities between rich and poor. "We were pleased to see that the UN agency urges a path very similar to the Intelligent Community Forum approach where communities take a more holistic approach to prosperity and innovation, and seeks to emphasize the human potential in all places and also the fact that cities and towns need to create new industries, not replacement jobs, especially if more of us are going to realistically move toward a middle-class lifestyle," said Zacharilla.
This year the Smart21 is comprised of six communities from Canada, four from both Australia and the United States, three from Taiwan and one each from Kenya, Greece, Brazil and New Zealand. The communities range in size from 15,000 people in Mitchell, USA to more than six million in Rio de Janeiro, Brazil. 15 of the communities are returning to the Smart21 list while Coffs Harbour, Montreal, Nairobi County, Parkland County, Sunshine Coast and Walla Walla are making a first time appearance.
2014 Smart21 list – Community, Country and Population
Arlington County, Virginia, USA | 210,300
Coffs Harbour, New South Wales, Australia | 70,900
Columbus, Ohio, USA | 809,800
Heraklion, Crete, Greece | 150,000
Hsinchu City, Taiwan | 427,000
Kingston, Ontario, Canada | 159,500
Mitchell, South Dakota, USA | 15,000
Montreal, Quebec, Canada | 3,957,700
Nairobi County Kenya | 4,000,000
New Taipei City, Taiwan | 3,949,800
Parkland County, Alberta, Canada | 30,500
Prospect, South Australia, Australia | 20,000
Quebec City, Quebec, Canada | 728,900
Rio de Janeiro, Brazil | 6,323,000
Sunshine Coast, Queensland, Australia | 322,600
Taoyuan County, Taiwan | 2,038,000
Toronto, Ontario, Canada | 2,791,000
Walla Walla, Washington, USA | 31,900
Wanganui, New Zealand | 43,000
Whittlesea, Victoria, Australia | 176,500
Winnipeg, Manitoba, Canada | 778,400
The announcement of the Smart21 list was made at the kickoff dinner for the annual Intelligent Community Symposium at Walsh University's Institute for the Study of the Intelligent Community in North Canton, Ohio, USA. The Symposium attracts international experts in the fields of education, technology, and business to discuss successful strategies for building prosperous and sustainable communities. Keynote speakers include Datawind CEO, Suneet Singh Tuli, whose Aakash 2 tablet computer is the world's cheapest.
Evaluation of nominations is based on the five Intelligent Community Indicators, which provide the conceptual framework for understanding all of the factors that determine a community's competitiveness and point to its success in the broadband economy. In addition, the Awards are guided by this year's theme, Community as Canvas, that looks at three specific aspects of culture: as art and craftwork with both economic and social value, as heritage that gives a place its identity, and as attitudes arising from that heritage that determine how people react to change. The Intelligent Community Forum released a white paper discussing the theme. It can be downloaded here.
The new Smart21 Communities of 2014 will next provide more detailed data, which is evaluated by an independent research firm. The seven highest-scoring cities or regions will then be named the Top7 Intelligent Communities of the Year, in January 2014 in Taichung City, Taiwan, the reigning Intelligent Community of the Year. In June of 2014 at an event in New York City, one community will be chosen to succeed Taichung City, as the 2014 Intelligent Community of the Year.
NOTE - A video produced by the Intelligent Community Forum about the 2014 Smart21 list is available for media use. Link to the video here.
About Intelligent Community Forum
The Intelligent Community Forum studies and promotes the best practices of the world's Intelligent Communities as they adapt to the demands and seize the opportunities presented by information and communications technology (ICT). To help communities build prosperous economies, solve social problems and enrich local cultures, the Intelligent Community Forum conducts research, hosts events, publishes newsletters and books and produces its high-profile international awards program. Over more than a decade, the Intelligent Community Forum has become an international movement that attracts the attention of global leaders, thinkers, and media observers. The Intelligent Community Foundation consists of 126 cities and regions that have been designated as Intelligent Communities and which participate in an ongoing global dialogue to strengthen local economies. For more information, go to http://www.intelligentcommunity.org
Intelligent Community Forum Contacts
Louis Zacharilla
Co-Founder, Intelligent Community Forum
Phone: 001-917-715-0711
Email: lzacharilla(at)intelligentcommunity(dot)org
Paul Brent
Senior Communications Specialist
market2world communications inc.
Phone: 001-613-256-3939
Email: paul(at)market2world(dot)com