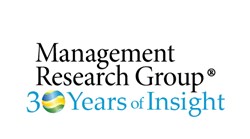 "Strong leadership skills and solid leadership reputations are not aquired by accident"
Portland, Maine, USA (PRWEB) October 22, 2013
With more than 18,000 global leaders, the Hay Group rankings show at least one common theme from the list: 14 of the top 20 utilize MRG leadership assessments in at least part of their leadership development programs.
"Strong leadership skills and solid leadership reputations are not acquired by accident. They are continually attended to and cultivated," said Dan Jackson, C.O.O. and Head of Marketing for Management Research Group. "This ranking of the top companies for leadership development reinforces the importance and value of investing in your internal resources and providing them with superior tools to ensure continued success."
According to the Hay Group research, companies on the Top 20 list intentionally identify leadership candidates and invest time and money in order to equip them with the right skills for those roles. MRG's leadership assessments help take the guesswork out of identifying leadership candidates with the greatest future potential.
About Management Research Group, Inc.
Founded in 1983, Management Research Group is an international assessment firm specializing in Strategic Leadership Development, Personal Development and Motivation, and Sales Force Effectiveness. Our unique semi-ipsative questionnaire design significantly reduces rater biases, producing more accurate, valid and actionable feedback. We have one of the largest databases in the world developed from over 30 years of research, a network of more than 1500 consultants active in over 100 countries, and our assessments are available in 15 languages and normed in 15 countries and eight global regions. For more information, visit us at http://www.mrg.com.