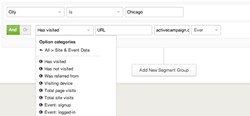 These new tracking features will give marketers even more information about the contacts and potential customers visiting their sites.
Chicago, IL (PRWEB) October 22, 2013
Knowing everything your visitors do while browsing your site is a key piece of business intelligence. Being able to utilize that data in conjunction with your sales and marketing efforts takes business to a whole new level. ActiveCampaign, a leading provider of email & marketing automation solutions, has recently unveiled a toolset for doing just that. Site and event tracking enables business owners to collect a wealth of meaningful data and, more importantly, act upon that data.
"Our mission is to create tools which help small businesses do more with less," remarked ActiveCampaign CEO Jason VandeBoom. "These new tracking features will give marketing & sales teams even more information about the contacts and potential customers visiting their sites. In turn, highly personalized automated actions and contact specific campaigns will help businesses capitalize on every opportunity."
Site tracking records every page view and site interaction; event tracking logs specific interactions that you specify, such as signing up or canceling a service, putting things in a shopping cart, or downloading a white paper. As with all ActiveCampaign features, customization is easy: users can define events for tracking that are appropriate for their business situation. Plus, tracking not only works on web sites, but also within custom applications.
Enabling site and event tracking is simple. A small snippet of Javascript pasted into a site will begin tracking site traffic immediately. Some of the basic information gathered can include site history, landing page(s), how the contact arrived, and any ad campaign clicked on. Once tracking is active, information from all past and future visits will be securely logged. It's up to the user how best to organize and act upon that data.
The data provided through site and event tracking allows business owners to create automated responses that kick in only after pre-defined conditions are met. If a contact places a certain number of similar items in shopping cart, for instance, the system could send an email with further product suggestions. Every aspect of a marketing campaign can be refined based upon data culled from site and event tracking; these features will be incorporated into the following areas:

Automated series (series of campaigns based on actions)
Automated actions (triggered campaigns)
Segments (to group contacts based on actions)
Personalization (including specific site & event data in campaigns)
Conditional Content (dynamic content within a single campaign based on actions)
ActiveCampaign brings together a bevy of features and support options that competitor marketing platforms can't match. Factor in the zero cost of entry, and the deal becomes even sweeter. VandeBoom concluded: "We believe in continual innovation; site and event tracking functionality are just the latest examples of how ActiveCampaign continually raises the bar for delivering actionable business intelligence."
About ActiveCampaign:
ActiveCampaign combines all aspects of small business marketing into a single & easy to use platform. Seamlessly create beautiful & engaging emails, utilize social media marketing, learn more about your contacts, and utilize marketing automation technology that used to be unreachable for small businesses. Over 100,000 users trust ActiveCampaign to help grow their business.