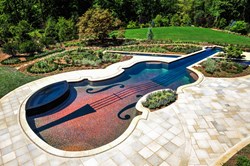 The Bedford, NY, violin pool, is entirely finished in stunning translucent glass tiles, which number nearly a half a million individual pieces.
Mahwah, NJ (PRWEB) October 23, 2013
The Northeast Spa and Pool Association (NESPA), held its award ceremony last Friday night at which time they presented a variety of distinct honors to designers and builders of custom swimming pools located in New York, New Jersey, Pennsylvania, and Connecticut areas, for projects they had designed and built during the past year. A Bedford, NY, pool built by Bergen County, NJ, pool builder Cipriano Landscape Design known as "the violin pool," won the illustrious NESPA Gold award for "Glass Tile Swimming Pools", which acknowledged the incredibly unique glass tile design that the violin pool showcases. This extraordinary custom swimming pool was drawn up and implemented by Cipriano Landscape Design, an industry leader in producing luxury outdoor spaces.
The Bedford, NY, violin pool, is entirely finished in stunning translucent glass tiles, which number nearly a half a million individual pieces. What makes this glass tile design extraordinarily unique however, is the custom gradient blend of the tiles. The color of the vast majority of ordinary glass tiles gradient blends can only transition in one direction. For instance if you were looking at the colored tiles and were working from a centerline, they would only transition going either north & south, or east & west. The glass tiles in the custom violin pool however, are a custom gradient blend which transition in every direction. In order to achieve this remarkable result, the Cipriano Landscape Design team ordered tile sheets that were numbered from 1-15 based on their gradient transition. The NJ landscape architecture team then had to map out each and every sheet on the pool floor, via an Auto CAD, in order to have the color transition fluently to the pool walls. As with any glass tile installation there is some variation from sheet to sheet that is corrected by mixing the sheets during the installation process. In a gradient tile design this issue is compounded by the 15 variations of color in the gradient blend of the violin design. In order to correct this potentially devastating issue, during the installation there was a professional individual whose sole responsibility was to color correct the sheets as they were being installed in order to maintain a smooth color transition.
Additionally, the violin "strings" which consist of jet black translucent tiles that run down the center of the pool floor, have 5760 strands of fiber optics that are interwoven through the glass tiles. The tiles clearly define the lap lane during the day, and by night the fiber optics delineate the lane as well as put on a lighting extravaganza. The fiber optic pool lights are completely synchronized by a high tech audio controller to stream with any music playing on the pool's underwater audio system.
Furthermore, to add to the dazzling translucent glass tiles and fiber optics, the violin pool also houses a number of other incredible features, such as; a perimeter over flow spa, a Riverflow jet system which creates a current for resistant swimming or kayaking, a 1,000,000 BTU heater which enables year round use, a fiber optic side glow cable, as well as the capacity for the homeowner to regulate the pool's flow rates and water chemistry via an iPhone. Swimmers can furthermore have full view of two stunning koi ponds built perpendicular to the pool, which are visible through acrylic glass panels which also have fiber optic star lights on the pond floors.
This exclusive custom pool also won NESPA's Gold award for "Exceptional Recognition In Design and Build - Concrete," the "Peoples Choice Award," and "Best in Competition" due to its daring designs and its complex assembly. Overall, the architecture and implementation of the violin pool was extremely challenging, and required a colossal amount of patience and expertise on behalf of the builder, especially regarding the application of the glass tiles and fiber optics. The dazzling, beautiful, and serene violin pool however truly needs no words to describe it; the finished product speaks for itself.
About Cipriano Landscape Design:
Celebrating over 24 years in business, 14-time international award winner Cipriano Landscape Design distinguishes themselves from all other swimming pool & landscaping companies with their extensive experience. The Bergen County, NJ company provides more than just a pool installation. As a recognized national leader in custom residential & commercial landscaping, masonry, swimming pools and water features, the NJ firm has been offering complete estate transformations since 2001. With a design office headed by 15-year-veteran, Certified Landscape Architect William Moore, the Cipriano team has won 75 awards of excellence since 2006 and in 2013 was named By Pool And Spa News to the "Top 50 Pool Builders."
For more information please visit http://www.njcustomswimmingpools.com or call 201-785-0800.