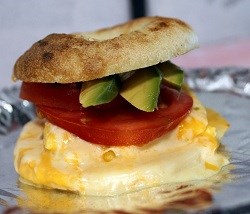 "It doesn't matter if you're in San Francisco, New York City, Wilmington, or right here in Charlotte. Rather than having to call around, you can just make a Foodie Call." Benny Fitzgerald, Catering Manager
Charlotte, N.C. (PRWEB) October 22, 2013
Charlotte-based Foodie Call is pleased to announce its latest business endeavor to include nationwide virtual dining services. Now, companies whose offices are grouped across the state – or even across the country on the West Coast, can virtually dine together with Foodie's meal, snack, and wine packages. Since many companies have employees who telework, virtual dining can unite employees no matter their location during conference calls with delivered bagels or during late night collaborations with snacks and wine.
Foodie Call explains that the idea behind the expansion was to increase office morale and strengthen a company's culture. Nowadays, it's very easy – and almost routine – for coworkers to become isolated behind the walls of a cubicle. Office management can now make employees feel valuable by offering "lunch on them," even if some employees work from home or other locations.
"Employees and clients are very valuable," said Benny Fitzgerald, Foodie Call's Catering Manager. "Whether you would like to thank your client with dinner and wine or desserts, or treat your team with a buffet or boxed lunches, we can do it all for you."
Promoting positive office environments isn't the sole service Foodie Call offers, either – the local business still features multi-restaurant marketing and delivery services. Hungry customers, like those coming home from a long day of work or not wanting to leave the couch on a lazy Sunday afternoon, can visit http://www.MakeAFoodieCall.com to order their favorite foods. Foodie Call offers food delivery services in Charlotte and Huntersville/Lake Norman areas, and will even fulfill larger orders down to Fort Mill.
In addition to virtual dining services and residential and corporate deliveries, Foodie Call offers catered meals. Restaurant partners include Sauceman's, La Paz, Crave Dessert Bar, California Pizza Kitchen, Peculiar Rabbit, Leroy Fox, Ben & Jerry's, AZN Azian Cuisine, Threes Taproom and Sushi Bar, Dilworth Neighborhood Grill, Dressler's, Fitzgerald's, Maharani and more.
Want to liven up a conference call or Friday afternoon status meeting? Simply order from Kai's Kookies and More, and choose from moist mini cupcakes that come in flavors like red velvet, vanilla bean, coconut cream, and chocolate mousse. Or, if work has to extend into the late hours of the evening, companies can save time by ordering food directly to the office.
"It doesn't matter if you're in San Francisco, New York City, Wilmington, or right here in Charlotte. Rather than having to call around, you can just make a Foodie Call," said Fitzgerald. "Let us handle everything from set-up to clean-up, china, monogramming, gift boxes and more, or just a simple drop and go. We've got fresh, steamed breakfast bagels from Owen's, convenient and filling boxed lunches from California Pizza Kitchen, sushi topped with salmon and avocado from Kabuto and afternoon snacks like Carolina Eggrolls and Grilled Chicken Skewers from Jackalope Jack's."
Foodie Call is a full service delivery business that provides cuisine, beer, wine, desserts, and even paper goods for special events.
About Foodie Call, Inc.
Foodie Call is a multi-restaurant marketing and delivery service providing a delicious variety of Charlotte's best cuisine, beer, and wine to Charlotte metropolitan area residents, workers, and visitors. Foodie Call services Charlotte and the surrounding areas from Ballantyne to Lake Norman. The delivery company brings napkins, utensils, and drinks for a full complement to your meal. For special events, they can provide wine accompanied by gift boxes or items for themed events. For hours and menus, or to place an order, visit http://www.MakeAFoodieCall.com or call Benny, the catering manager, at 704-245-6556.
Contact:
Lindsay Yontz
Lindsay(at)MakeAFoodieCall(dot)com