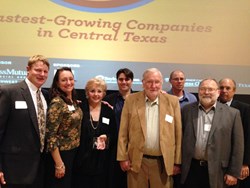 Austin, TX (PRWEB) October 22, 2013
Bridge360, a custom software developer focused on solving complex application issues with superior quality assurance, has once again been recognized as a Fast 50 company by the Austin Business Journal. Bridge360 experienced revenue growth of 58.21% from 2010 to 2012 to earn the 21st spot on the list for companies in the sub $10 million revenue category.
This is the second consecutive year Bridge360 has been ranked as a Fast 50 company in one of the nation's fastest growing business markets. The company was 19th on the 2012 list. Recognition on the Austin list is particularly impressive given the Texas capital has spent a majority of the year as the No. 1 city in the national economic rankings performed each month by On Numbers Economic Index.
"The past few years have been remarkable for our growth as a relatively young company," said Bridge360 CEO Brenda Hall. "From the beginning in 2001, we've placed an emphasis on providing the highest quality software solutions for our clients using the top talent in the industry. That combination of high service level with remarkable people is what sustains our upward trajectory."
The Austin Business Journal's Fast 50 is a ranking of the top privately held companies headquartered in Austin, Texas. The rankings are divided into two categories: companies with net revenue below $10 million, and companies with net revenue above $10 million over the most recent three-year period.
The official announcement of the Fast 50 rankings was conducted at an evening ceremony on Thursday, Oct. 17 at the AT&T Conference Center. The top three companies recognized in each category were Phunware Inc., Gossett Jones Homes, and Circular Energy LP (under $10M), and Invodo Inc., Kendra Scott Design Inc., and Sabre Commercial Inc. (over $10M).
About Bridge360
Bridge360 improves client experience with a first focus on delivering quality software. Bridge360 engages and delivers across the entire software development life cycle with support and maintenance. This includes program management, architecture, design and development, and testing. By specializing in solving complex problems at every phase of the project, Bridge360 removes roadblocks to bring clients' software and applications to any market with the highest level of quality.
The Bridge360 customer base includes world technology companies, leading system integrators, federal and state government agencies, and small to enterprise businesses across the globe. Bridge360's clients span industries from legal to healthcare, automotive to energy, and high tech to high fashion; all counting upon Bridge360 to clear a path for their success.
Bridge360 was founded in 2001 and is headquartered in Austin, Texas with an office in Beijing, China. Recent acclaim for the company has included 2013 listings on Inc. 5000, Software 500 and Austin Business Journal Top Women-Owned Businesses. Bridge360 was also the 2013 recipient of the International Service Award presented by GlobalAustin and the Austin Chamber of Commerce.