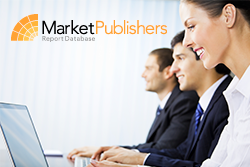 London, UK (PRWEB) October 21, 2013
Market Publishers Ltd and India Business Reports (IBR) signed a partnership agreement for quality market research promotion on Internet. MarketPublishers.com is now authorised to distribute and sell IBR reports.
Tanya Levdikova, Assistant Manager at Partners Department, said that Market Publishers has recently partnered with a new member – India Business Reports, Wisdomsmith Advisors's subsidiary. "This India-based company is as an initiative of professionals with extensive experience across multiple domains – research, private equity funding, investment banking, advisory, marketing and branding. Their single minded objective is to generate informative company and market reports based on hard facts. IBR's content and expertise will definitely be relevant for the financial society and multinational corporations aimed at doing business with India, as well as for Indian firms that look to fine-tune their growth strategies. We are pleased to offer our clients unrivalled access to a rich collection of the company's products and services," commented Tanya Levdikova.
In-demand reports by India Business Reports include:
Global Tyre Retailers. With good retail margins and the possibility to offer various other auto products and services from the same outlets, the global tyre retail business has quite good prospects in the near future. The report presents a quick overview of most prominent names in the tyre market globally (focus on the US, Europe and RoW), covering their size, history, country of origin, and they products and services they offer. In cases where the companies are listed, their key financial numbers are also presented.
Indian Restaurants Sector. Food and restaurants is the fastest growing segment in the overall foods domain, with a five year CAGR of a little higher than 20%. The growth in the Indian market is expected to remain robust and continue to be in double digits in coming years. By 2014-2015, the restaurant market in India is forecast to touch around USD 40 billion. The report estimates the market size and structure, including estimated market size in key cities of India.
Indian Dental Services Market. India's dental market size is between Rs 50-60bn. Dental expenditure in India is highly correlated with per capita income. This is indicated by the sharp difference in population per dentist. The positive correlation with income means that dental spending is likely to rise faster than GDP. Huge incidence of untreated disease is also a pointer towards the growth potential of dental services. Attracted by the untapped potential, corporate chains have begun to emerge in dental services, some of which are VC funded. The report presents key data on the market, besides profiling key companies in the field.
Alkem Laboratories Ltd. Alkem is among the top 10 unlisted pharma companies in India. The company used to be the largest unlisted Indian pharma company till 2009, till it was overtaken by the turbo charged growth of Mankind Pharma. Now Mankind is over 30% larger than Alkem, signalling that the race for the largest unlisted pharma company is well and truly lost by Alkem. More data on the company is available in the report.
NH Dental Private Limited. Narayana Hrudayalaya Dental clinic (NHDC) was a 100% subsidiary of world renowned group of hospitals by Narayana Hrudayalaya. In a very short period of time it has grown to become one of India's largest in dental care service attracting over 7000 patrons per month. It has just got acquired by Axiss Dental, a company owned by VC fund India Equity Partners. NHDC is still present in the cities of Bangalore and Kolkata. The report provides insightful company, covering the board of directors, background information, business highlights, funding and financials.
More details on the publisher and its reports can be found at IBR page.