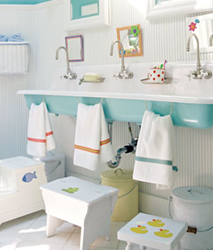 The most important factor to consider when designing a child's bathroom is safety.
Toledo, OH (PRWEB) October 28, 2013
The bathroom is one of the most important rooms of the home. While it is usually very easy for adults to navigate through the space, bathrooms pose many challenges to children who are unable to reach the sink or climb into the tub. The biggest challenge, however, is creating a space that appeals to both adults and children through the use of smart and stylish design fixtures and furnishings.
The most important factor to consider when designing a child's bathroom is safety. Since small children are unable to see above the countertop to wash their hands, brush their teeth or look in the mirror, it is important they have a step stool accessible at all times. Be sure the stool is the appropriate height for the child to reach the faucet and wide enough to safely hold both feet without the risk of tipping over.
Soft-close toilet lids and cabinet drawers are a great way to avoid bruised fingers in the bathroom. These features are available at most hardware stores and may be easily installed without a professional. In the shower, MR Direct recommends installing an anti-scald device on faucets and showerheads to eliminate the risk of dangerous burns. Their line of shower and tub faucets are all pressure tested and have a limited temperature stop to avoid sudden changes in temperature, regardless of pressure change.
Following the importance of safety in a children's bathroom is the significance of organization. Labeled baskets under the sink are a great way to teach children to return items to their proper place. Shelving units above the toilet or next to the vanity are ideal for storing toiletries and other essentials that need to be easily retrieved while staying out of the way. For bathrooms with multiple children using the space, baskets or drawers dedicated to each child may help to cut down on the inevitable arguments over who's hairbrush is who's.
Don't be afraid to use bold colors in a child's bathroom. Adding exciting colors and soft textures in the space is a great way to stimulate the senses while their growing brains become inspired. If the bathroom is a shared space in the home, stay clear of over-themed designs. Instead, pull in colors from the rest of the home and turn them into polka dots on the wall or a fun, patterned shower curtain with matching towels. If only children use the space, creating a theme that incorporates their interests is a fun way to make the children feel included in the design.