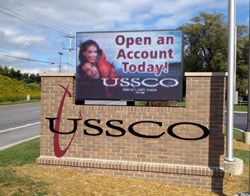 "We've been able to be a closer part of the community." Todd Cover, CEO of USSCO.
Johnstown, PA (PRWEB) October 29, 2013
Todd Cover, USSCO's Chief Executive Officer, wanted to find a different way to reach out to the community by extending programs and service information to members and non-members. USSCO Federal Credit Union works hard to achieve its goal of people helping people as opposed to being solely transaction-driven. Minahan Signs' team brought a great solution: a new LED sign at USSCO's Richland location.
"We've been able to be a closer part of the community. Whether it's a congratulations message to the Tomahawks [a local Johnstown, PA hockey team] or recognizing and featuring local high school scholarship award winners, the community can benefit from the new LED Sign technology and share their successes," stated Mr. Cover. "The LED Sign has worked out extremely well for us and it's thanks to the efforts of Minahan Signs and Vantage LED. They are very responsive to our needs and always there if a support question comes up or sharing tips on how to take full advantage of the new technology."
Established in 1951, Minahan Signs has a reputation as a leader with LED signage and providing the best new technology solutions for their clients in the area. They've promoted it as the most effective tool for direct community outreach and on-premise advertising over the years and have a long list of satisfied clients to back up the claim.
David Crichton, Minahan's President/General Manager, stated, "Vantage LED [an LED sign manufacturer in CA] has been able to offer us a competitive LED Sign system. The Vantage LED team was very responsive to both Minahan Signs' needs as well as the customers."
"We've been investing in new technology for quite a while and are very experienced with LED Sign systems. USSCO Federal Credit Union sees the importance of staying in the forefront to ensure their members get as many advantages as possible. The Digital Signage system helps them stay in touch with the community and continue their legacy of helping both their members and community in their financial lives," said Crichton regarding the newly installed system.
Since installing the LED Sign, USSCO Federal Credit Union has been working on ways to further reach out and educate the public on available services and programs by leveraging mobile applications and more user-friendly technologies. It helps them connect, communicate, and create closer alliances within the community.