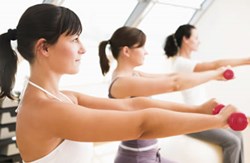 This is by far the best floor I have ever danced/exercised on! -Terry K.
Milltown, WI (PRWEB) October 23, 2013
Greatmats, an online dealer of specialty flooring, has introduced a smaller home version of their popular Aerobic Dance Floor tiles. The larger version of this tile has been on the market for some time and has been particularly successful in Jazzercise studios and similar commercial fitness centers across the country.
Like the larger tiles, the new product, the Elite Exercise Foam Tile is a commercial-caliber, high-density foam tile designed for heavy traffic in exercise and fitness facilities. The tile measures 19-5/8" x 19-5/8" (as opposed to the larger 1 meter x 1 meter tiles).
Elite tiles are designed with interlocking edges that allows for a quick installation. Because the tiles interlock, they require no adhesives or tape to install. The foam tiles are lightweight which means they are easy to transport to various locations or to bring along if the user decides to move. Elite tiles are waterproof so they can be used in damp basements. They are designed to lay directly over any hard, flat surface such as concrete.
Unlike some types of flooring found in many aerobic facilities, these foam tiles provide a cushioned surface that is specifically designed for fatigue relief and impact attenuation. For this reason, these tiles are also popular in areas where employees have to stand in one spot for significant lengths of time.
Two border strips are included per tile. These allow the user to complete a finished edge for island-type layouts. For wall-to-wall installations, the tiles can be simply cut with a sharp utility knife and a straightedge to cut along.
Greatmats provides an easy-to-use online room designer that allows customers to create their room layout to scale and to determine the number of floor tiles they will need for their area by simply typing in the dimensions.
About Greatmats:
Headquartered in Milltown, WI, Greatmats is a leading online dealer of residential and commercial specialty flooring options. Greatmats is 100% solar powered and has been named one of Inc magazine's top 500 fastest growing sites three years in a row. They hold a Triple-A rating with the Better Business Bureau. For further information, contact Greatmats at 877-822-6622 or visit http://www.greatmats.com.