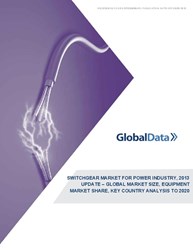 Rockville, MD (PRWEB) October 22, 2013
Switchgear Market for Power Industry, 2013 Update - Global Market Size, Equipment Market Share, Key Country Analysis to 2020
Since the late 2000s, more emphasis has been placed on increasing the share of renewable installed capacity and promoting distributed power generation. It has been found that distributed power generation adds to grid stability while reducing the load on the main system.
Countries in the Western Europe and North America regions, such as Germany, France, the US and the UK are reducing their reliance on fossil imports and nuclear power while also reducing carbon emissions. In order to achieve both of these goals, substantial investment and support is being offered for the development of renewable power generation. The EU has set an overall target for the cutting of emissions by 20% against 1990 levels by 2020 and has assigned individual targets. In the US, most states have set internal renewable energy targets.
The value of the global switchgear market revenue increased from $46.8 billion in 2008 to $58.6 billion in 2012. While low-voltage switchgears are the least costly of the different switchgear types, they account for the highest share of global revenue with 49% as of 2012. This is due to the large volume of low-voltage switchgears sold annually. Medium-voltage switchgears accounted for 36% of the switchgear market in 2012, followed by high-voltage switchgears with 15%. This is because, for a single high-voltage installation, multiple medium-voltage switchgears must be deployed.
China is currently the largest market for switchgears in the world, accounting for a share of 16.9% in 2012. The value of the Chinese switchgear market amounted to an estimated $7.7 billion in 2008 and increased to reach $9.9 billion in 2012. Due to the high growth rate of the market in China, the country is expected to account for a 19.2% share of the global market by 2020. China's switchgear market is expected to grow at a Compound Annual Growth Rate (CAGR) of 10.8% between 2013 and 2020, while the global revenue is expected to increase at a CAGR of 9%.
To order this report:
Switchgear Market for Power Industry, 2013 Update - Global Market Size, Equipment Market Share, Key Country Analysis to 2020
Contact: Shauna
800.298.5699
Customerservice(at)marketresearch(dot)com
GlobalData
GlobalData is the premier source of actionable insight into the energy and healthcare industries. With the combined expertise of more than 1,000 researchers, market analysts and consultants, we provide high-quality, accurate and transparent industry insight that helps our clients to achieve growth and increase business value.
About MarketResearch.com
MarketResearch.com is the leading provider of global market intelligence products and services. With research reports from more than 720 top consulting and advisory firms, MarketResearch.com offers instant online access to the world's most extensive database of expert insights on global industries, companies, products, and trends. Moreover, MarketResearch.com's Research Specialists have in-depth knowledge of the publishers and the various types of reports in their respective industries and are ready to provide research assistance. For more information, call Cindy Frei at 240.747.3014 or visit http://www.marketresearch.com
Follow us on Facebook at http://www.facebook.com/marketresearchdotcom.
Follow us on Twitter at http://www.twitter.com/marketresearch_.
Switchgear Market for Power Industry, 2013 Update - Global Market Size, Equipment Market Share, Key Country Analysis to 2020 – Table of Contents:
1 Table of Contents
2 Introduction
3 Global Switchgear Market Analysis
3.1 Switchgear Market, Drivers, 2013-2020
3.1.1 Growing Installed Capacity
3.1.2 Substantial Investment in Transmission Infrastructure
3.1.3 Growing Investments in Distribution Infrastructure
3.1.4 Aging Infrastructure and Refurbishment Activities
3.1.5 Growing Renewable Energy Installed Capacity
3.1.6 Deregulated and Competitive Electricity Market
3.1.7 Overall Growth in Infrastructure
3.2 Global Switchgear Market, Restraints, 2013-2020
3.2.1 Pricing Pressure
3.2.2 Increasing Raw Material Prices
3.2.3 Global Financial Crisis and Economic Slowdown of Major Markets
4 Global Switchgear Market
5 Appendix