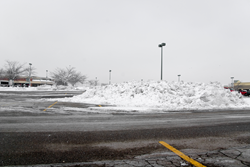 'We work before and after the snow and ice falls in order to create an environment where your customers, clients and employees feel safe,' explains Tony Fisher, General Manager.
Kennewick, WA (PRWEB) October 22, 2013
Winter weather brings an increase in slips and falls caused by snow and ice. This can be a problem for businesses unless they develop a management program for dealing with icy conditions. The experts at Senske Services reveal that now is the time for creating a snow and ice management program. They are releasing their top 10 snow tips that could help to mitigate much of the risk associated with this time of year so that business and property owners do not get caught without a plan in place.
1. Whose Responsibility Is It?
Designate the person(s) in your company that is in charge of making sure the parking lot is safe during winter months.
2. Make Sure Any Vendors Have Current & Certified Insurance.
Make sure your insurance and your contractor's insurance is valid should any accidents happen while a vendor is clearing your parking lot and sidewalks.
3. Be Prepared.
Keep caution signs, ice melt, and shovels on hand in case of sudden storms.
4. Know the Layout of Your Property.
Make sure that any vendors know locations of ramps, speed bumps, or any other parking lot obstacles to ensure that there aren't accidents when covered by snow. Also make sure contractor marks islands, curbs, and other landmarks that could cause damages with flags tall enough to be seen when snow falls.
5. Keep The Walkways Clear.
Never pile up snow near customer walkways and make sure that snow melt will not flow into pedestrian traffic areas. Take special care in handicap parking areas, ramps and entrances.
6. Help Out Drivers.
Make sure that snow piles are kept out of the line of sight of other drivers. Snow piles can grow over a season and end up cause problems for motorist driving by your business. Snow piles also melt and refreeze over the season causing ice to accumulate where they drain. Plan to store snow in a place where there is as little pedestrian traffic as possible.
7. Don't Block Other Pathways.
Never place snow piles in front of mailboxes, dumpsters, water drains, gas meters, or hydrants. Make sure to keep emergency exits or fire lanes clear as well. Piles can make it impossible for others to get into areas that are important.
8. Obey The Law.
In most communities, it is a violation of local ordinances to push snow off your property onto the public streets. Plan your snow storage appropriately to avoid problems.
9. Be A Good Neighbor.
Make sure that you never place snow piles on your neighbor's lots or block entrances.
10. Let People Know.
Clearly mark any slippery areas with caution signs and caution tapes as needed.
Senske urges business owners to be proactive instead of reactive. Waiting until the snow has arrived to take action isn't a good idea. Accumulation can build up quickly, leaving no time for clean-up and maintenance.
Senske also advises sending out internal communication about plans to deal with snow and ice, and to inform employees about ways in which they should prepare. These plans should involve steps that will protect clients, customers and workers.
Because snow removal is a potential liability, Senske recommends getting professional help if necessary. The amount of planning and preparation involved could be overwhelming for some business owners. But a professional snow removal company will have the training and equipment to keep businesses in the clear.
Fortunately, Senske's Winter Ground Maintenance offers both "seasonal" and "per event" contracts. "Our service doesn't stop once the snow and ice are gone. Every storm event is fully documented with time of day reports, weather conditions, site conditions and other data that helps us monitor performance and protects your interests in the aftermath of a winter season," says Fisher. With a fleet of over 100 snow vehicles, each business is handled on a case by case basis with free consultations provided before the snow season hits.
About Senske Services:
Senske Services, Inc. is a leading lawn, tree and pest control service provider that is locally owned and operated, with its corporate office based in Kennewick, Washington. It has been a trusted source of lawn, tree and pest control services since 1947 across Eastern Washington, Idaho, and Utah, as well as pest control in Las Vegas, Nevada. To see what Senske Services can do for you, visit http://www.senske.com.