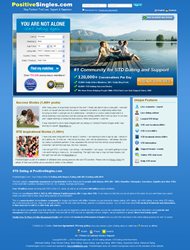 Los Angeles (PRWEB) October 29, 2013
The latest survey conducted by PositiveSingles.com in October, an online dating site for those infected with Sexually Transmitted Diseases, reveals that there is no relation between the level of education and STD infection rate. According to the website, over 397, 576 members of Positive Singles took part in the survey to determine whether the education has an influence on the number of STDs people.
When contacted, Darren Smith, the representative of the website said, "The basic aim of the survey is to identify any kind of relation between the level of education and STD infection. The question come to our mind due to the common belief that those who are more educated have clear knowledge about Sexually Transmitted Diseases and that reduces the chance of suffering from the same." He further added, "The results, however, portray a different picture."
According to the survey, STD infection is most common among those who attended some college; 36.01 percent of those, who took part in the survey, belongs to the category. Those who have a bachelor's or four-year degree closely follow and constitute 25.29 of the sample of survey. While 12.08 percent of the infected are just high school graduates, 9.68 percent hold Associates (two-year degree) and 7.77 percent, a master's degree.
Jeffery Z, the CEO of the company, said, "Obviously, there are no direct links between education and infection rate."
Sources confirm that over 110 million people are living with STDs in the U.S. alone, as well as an estimated 400 million people worldwide. The sufferers are often left alone and the pain haunts them for the rest of their lives. PositiveSingles as a platform aims to help them find a partner, friends and potential spouses.