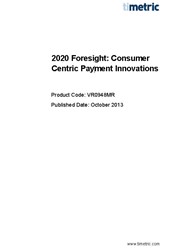 Rockville, MD (PRWEB) October 23, 2013
2020 Foresight Report: Consumer Centric Payment Innovations
Businesses are increasingly focusing on key consumer drivers such as convenience, accessibility, security, speed and the cost of payments to increase acceptability of their products and services, and gain an advantage over their competitors. To target these consumer drivers, stakeholders in the payment value chain are primarily concentrating on digitalization of payments, increased interoperability, and the introduction of disruptive strategies to plug gaps in user demand and solutions offered by the industry. Changing consumer behavior, such as increased use of mobile devices to manage day-to-day activities and the increasing use of social media, has attracted a number of organizations to build their business and product strategies around these platforms.
Key highlights include:
-Innovations in payment can be broadly classified under four categories: innovations in payment cards; online payments, including electronic bill presentment and payments; mobile payments; and developments in overall payment infrastructure and security. Focus has increased on the convenience and speed of payments. As a result, mobile payments have received significant attention in recent years.
-Regions dominated by emerging economies, such as Asia-Pacific, Africa and Latin America, exhibit high growth potential in innovative payment solutions, although most innovations currently tend to stem from North America and Europe. Europe, however, is expected to lose some steam over the next five years, while North America is forecast to continue to impress with new payment solutions, primarily led by developments in the US. Countries such as Turkey are highly innovative in terms of payment products and services, with consumers showing a readiness to experiment, as are parts of the Middle East, as regulation can be scattered and consumer demand pushes for new payment options.
-Social media networks such as Facebook, Twitter and Instagram have become an attractive platform to target consumers. There are more than 1.15 billion (as per Facebook's Q2 2013 earnings report) and 500 million users (as of March 2013) on Facebook and Twitter respectively, and their users bases are growing rapidly every year. This presents lucrative opportunities for merchants, financial institutions and new entrants to capitalize on a ready market.
To order this report:
2020 Foresight Report: Consumer Centric Payment Innovations
Contact: Shauna
800.298.5699
Customerservice(at)marketresearch(dot)com
Timetric
Timetric is an independent economic and business research firm providing critical intelligence on emerging economies and key global industries. We provide detailed economic and sector intelligence, business insights and authoritative, independent commentary.
Timetric's flagship products are economic and industry intelligence centers, which are premium decision tools that provide access to comprehensive research and expert analysis. They provide invaluable decision support presented in easily digestible formats and grounded in deep research.
One of the key components of each of these intelligence centers are the hundreds of high quality research reports across countries, industries and companies, which Timetric produces each year.
These reports draw on in-depth primary and secondary research, proprietary data and high quality modelling and analysis to give you insight into global market and economic dynamics.
About MarketResearch.com
MarketResearch.com is the leading provider of global market intelligence products and services. With research reports from more than 720 top consulting and advisory firms, MarketResearch.com offers instant online access to the world's most extensive database of expert insights on global industries, companies, products, and trends. Moreover, MarketResearch.com's Research Specialists have in-depth knowledge of the publishers and the various types of reports in their respective industries and are ready to provide research assistance. For more information, call Cindy Frei at 240.747.3014 or visit http://www.marketresearch.com.
Follow us on Facebook http://www.facebook.com/marketresearchdotcom
Follow us on Twitter http://www.twitter.com/marketresearch_
2020 Foresight Report: Consumer Centric Payment Innovations – Table of Contents:
1 Executive Summary
2 Global Snapshot of Payment Innovations, and Regional Overview
3 Market Potential of Payment Channels and Products
4 Consumer Technology Trends Driving Innovation in Payments
4.1 Emerging Payment Channels
4.1.1 Social media
4.1.2 Mobile devices
4.2 External Enablers of Innovation in Payments
4.2.1 Cloud technology
4.2.2 Data analytics
4.2.3 Open APIs
5 Issues and Challenges
6 Payment Innovation Case Studies
7 Appendix