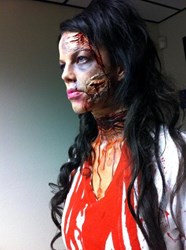 Upland, CA (PRWEB) October 23, 2013
Salon Success Academy students have uploaded some super scary photos of their creepiest creations as part of the annual Salon Success Academy Halloween Spookiest Makeup Contest. More than 24 contest photos are available for viewing and voting on the Salon Success Academies Page on Facebook and fans and followers can now choose the contest winner! Those wishing to participate in the event should check out the awesome photos submitted by Salon Success Academy students on Facebook and through Twitter and Instagram. Anyone can vote. Just go to the Salon Success Academies Page on Facebook and:

'Like' the Salon Success Academies Page on Facebook.
Click on the "Halloween Contest" tab and click "View Entries"
To vote for your favorite photo, simply click the "Vote" button.
You can vote up to once a day through Tuesday, October 29th at 11:59 PM PST
Students of Salon Success Academy have been working on their projects all month and have submitted some crazy, spooky, scary, Halloween-themed makeover photos. Vying for top honors of ghoulishly grand makeover artist, the student who receives the most votes from the public will be awarded a $75 gift card to Target. Additionally, Salon Success Academy judges will critique entries for creativity, color, style, theme and overall look and bestow judges' choice awards. First place will receive a $75 Target gift card and one submission from each school will receive Honorable Mention and a $10 Starbucks gift card.
Winners will be announced on Halloween Day via Facebook, Twitter and Instagram.
Salon Success Academy has been training top professionals in the beauty industry for more than 50 years. The school offers hands-on training in cosmetology and esthetics at its five locations throughout the Inland Empire of California in Redlands, Fontana, Upland, San Bernardino, and Corona. If you would like to learn more about training for a new career with Salon Success Academy, please fill out the form or call 877-987-HAIR (4247).