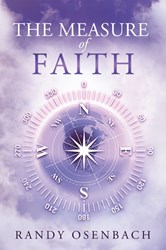 This book cuts right to the heart of the importance of a vibrant relationship with God.
(PRWEB) October 23, 2013
Even though the official "Evaluate Your Life Day" falls at the end of October, you probably find yourself reflecting on life choices more than one day out of the year. Randy Osenbach prepares you for success in his new book full of spiritual advice and Christian truths.
In his book "The Measure of Faith," Randy Osenbach provides readers with a spiritually empowering guide to living a faith-based life. Using biblical scripture as a foundation, the book reveals the key to living a balanced physical and spiritual life.
Rooted in the belief that Americans have become lost in their self-sufficiency and do-it-yourself mentality, Osenbach's expertise in ministry inspires readers to live by God's standards, not their own.
"My desire is to inspire readers to know the God in Scripture and thus be able to discern the difference between an intellectual assent of faith and a life of heartfelt obedience to Christ," Osenbach said.
Readers will learn what it means to go beyond the basic principles of salvation and live by faith, ultimately realizing that one's physical needs should not be the central focus.
According to Osenbach, "This book cuts right to the heart of the importance of a vibrant relationship with God."
As someone who has personally experienced life a part from God, Osenbach desires to bring the joy and peace that he has found since becoming a Christian into the lives of others.
"The Measure of Faith"
By Randy Osenbach
ISBN: 978-1-4497-9691-4 (sc); 978-1-4497-9692-1 (hc)
Softcover: $11.99
Hardcover: $28.99
Available at Amazon, Barnes and Noble, and Westbow Press online bookstores.
About the Author
Randy Osenbach has spent much of his adult life ministering to individuals and groups in hopes to bring them closer to God. He has an associate degree from Liberty University and a bachelor's degree in Pastoral Ministry from Christian Bible College and Seminary. He currently resides in Berwick, Pa., with his wife, Janet.