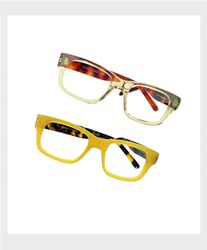 The solution to (your) retro-chic needs!
Miami, FL (PRWEB) October 22, 2013
Wearing glasses for function only is something of the past; eyeglasses have become an essential fashion accessory to the everyday wardrobe. Dolabany Eyewear by Best Image Optical, Inc. stays at the forefront of this trend by maintaining a well-rounded collection of optical frames, boasting a variety of models, designed for both style and function to fit every need and look.
At the top of their must-have eyewear styles is their available selection of thick-framed eyeglasses. Their optical frames would make anyone want to suffer from poor vision (as an excuse to wear their eyeglasses of course). This year, Dolabany Eyewear introduces model Wilder - the solution to everyone's retro-chic needs. Wilder is sure to make a spectacle with its large, rectangular front and temples, made of high quality acetate to ensure perfect comfort and fit as well as a vibrant color set. The model is available with either deep, bold hues or crystal frame fronts. The Dolabany Wilder is for those eyewear fanatics that are feeling adventurous and want nothing more than to make a fashion statement.
Frame Information
Name: Wilder
Brand: Dolabany Eyewear
Colors: Champagne Blond, Honey Tiger, Crystal Demi, Black, Tokyo Ebony
Size: 52-21-145
Material: Italian Zyl
Market: Unisex
Best Image Optical, Inc. maintains a collection of unique and high quality designer eyewear, which possesses exceptional taste in patterns, colors, and shapes that set such frames far apart from others. And what sets them even further apart from the competition is that they do not authorize the selling of their eyewear brands to internet retailers or discount chain-stores. This is to protect the consumer and eye care professional alike. Best Image Optical's core belief is that eyewear should be fitted and sold by a local eye care provider in a personal and professional environment. Consumer brand inquiries are redirected to their independent retail partners found on their website's "Store Locator."
###
For more information about the newly released eyewear of Best Image Optical, Inc., visit http://www.bestimageoptical.com. Interested readers may also send an email at info(at)bestimageoptical(dot)com for direct response.