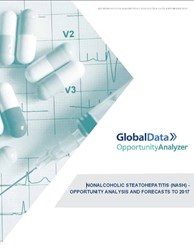 Rockville, MD (PRWEB) October 25, 2013
OpportunityAnalyzer: Nonalcoholic Steatohepatitis (NASH) - Opportunity Analysis and Forecasts to 2017
The level of unmet needs for NASH, including both environmental and clinical, is high and includes patient awareness, physician education, and approved therapies specific to NASH. These issues compound the reasons why the NASH market space is very sparse. A series of unknowns exist for the disease, due to its heterogeneous nature, and its slow progression poses problems for drug development.
Vitamin E, the current goldstandard therapy, dominates what little drug therapy NASH market there is. We expect Genfit's small molecule GFT505 to claim patient share within the diabetic subpopulation, and Intercept Pharmaceuticals/DSP's small molecule OCA to claim patients in all subpopulations, thus giving it an advantage. These products will likely solve the top unmet need - the dire need for an approved therapy for NASH.
The growing global rate of obesity and diabetes will boost the NASH market from $233 million in 2012 to $863 million by 2017, at a significant CAGR of 30%. The US will have the largest share of the market, contributing $827 million towards global sales, followed by the five major European markets - France, Germany, Italy, Spain and the UK. Currently, there are 29.3 million prevalent cases of NASH across these six major markets.
Dina Rufo, MS, GlobalData's Analyst covering Immunology, says: "Since there is neither cure, nor one specific therapy currently available for NASH, R&D strategies in this market space are complicated. Challenges range from unraveling the pathophysiology of NASH and designing diagnostic tools for more accurate diagnosis and staging, to the design of clinical trials. Furthermore, the level of unmet needs for NASH, including both environmental and clinical, is high and requires patient awareness and physician education."
To order this report:
OpportunityAnalyzer: Nonalcoholic Steatohepatitis (NASH) - Opportunity Analysis and Forecasts to 2017
Contact: Shauna
800.298.5699
Customerservice(at)marketresearch(dot)com
GlobalData
GlobalData is the premier source of actionable insight into the energy and healthcare industries. With the combined expertise of more than 1,000 researchers, market analysts and consultants, we provide high-quality, accurate and transparent industry insight that helps our clients to achieve growth and increase business value.
About MarketResearch.com
MarketResearch.com is the leading provider of global market intelligence products and services. With research reports from more than 720 top consulting and advisory firms, MarketResearch.com offers instant online access to the world's most extensive database of expert insights on global industries, companies, products, and trends. Moreover, MarketResearch.com's Research Specialists have in-depth knowledge of the publishers and the various types of reports in their respective industries and are ready to provide research assistance. For more information, call Cindy Frei at 240.747.3014 or visit http://www.marketresearch.com
Follow us on Facebook http://www.facebook.com/marketresearchdotcom
Follow us on Twitter http://www.twitter.com/marketresearch_
OpportunityAnalyzer: Nonalcoholic Steatohepatitis (NASH) - Opportunity Analysis and Forecasts to 2017 – Table of Contents:
1 Table of Contents
2 Introduction
3 Disease Overview
4 Epidemiology
5 Current Treatment Options
6 Unmet Needs Assessment and Opportunity Analysis
7 R&D Strategies
8 Pipeline Assessment
9 Pipeline Valuation Analysis
10 Appendix
1.1 List of Tables
Table 1: Symptoms of NASH
Table 2: Risk Factors and Comorbidities for NASH
Table 3: Reported Prevalence of NASH in the US and 5EU
Table 4: Reported Prevalence of NAFLD in the US and 5EU
Table 5: 6MM, Sources of Prevalence Data Used in the NASH Epidemiological Forecast
Table 6: 6MM, Prevalent Cases of NASH, Ages = 20 Years, Men and Women, N, Selected Years, 2012-2022
Table 7: 6MM, Prevalent Cases of NASH, By Age*, Men and Women, N (Row %), 2012
Table 8: 6MM, Prevalent Cases of NASH, Ages = 20 Years, By Sex, N (Row %), 2012
Table 9: Off-Label Treatments for NASH
Table 10: Product Profile - Vitamin E
Table 11: Vitamin E SWOT Analysis in NASH, 2013
Table 12: Product Profile - Pioglitazone
Table 13: Pioglitazone SWOT Analysis in NASH, 2013
Table 14: Overall Unmet Needs in NASH - Current Level of Attainment
Table 15: Current Clinical Trial Design of Key Pipeline Drugs for NASH, 2013
Table 16: NASH - Mid-Late-Stage Pipeline, 2013
Table 17: Product Profile - GFT505
Table 18: GFT505 SWOT Analysis, 2013
Table 19: Product Profile - Obeticholic Acid (INT-747)
Table 20: Obeticholic Acid (INT-747) SWOT Analysis, 2013
Table 21: Product Profile - Simtuzumab
Table 22: Simtuzumab SWOT Analysis, 2013
Table 23: Product Profile - Liraglutide
Table 24: Liraglutide Safety Profile from the LEAD Program
Table 25: Liraglutide SWOT Analysis, 2013
Table 26: Early-Stage Pipeline Products in NASH, 2013
Table 27: Clinical Benchmark of Key Pipeline Drugs for NASH, 2013
Table 28: Commercial Benchmark of Key Pipeline Drugs for NASH, 2013
Table 29: Top-Line Sales Forecasts ($m) for NASH, 2012-2017
Table 30: Key Events Impacting Sales for NASH, 2017
Table 31: NASH Market: US and 5EU - Drivers and Barriers, 2012-2017
Table 32: Key Launch Dates
1.2 List of Figures
Figure 1: Two-Hit and Multiple-Hits Theories in NASH
Figure 2: Distinct-Hit Pathogenesis in NASH
Figure 3: Stages of Liver Disease
Figure 4: 5EU, Prevalence of NAFLD and Obesity, Ages = 20 Years, Men and Women, %
Figure 5: 6MM, Prevalent Cases of NASH, Ages = 20 Years, Men and Women, N, Selected Years, 2012-2022
Figure 6: 6MM, Prevalent Cases of NASH, By Age*, Men and Women, N, 2012
Figure 7: 6MM, Prevalent Cases of NASH, Ages = 20 Years, By Sex, N, 2012
Figure 8: Liver Biopsy to Confirm NASH
Figure 9: Competitive Assessment of Mid-Stage Pipeline Agents in NASH, 2012-2017
Figure 10: Competitive Assessment of Mid-Stage Pipeline Agents in NASH, 2012-2017
Figure 11: Global Sales for NASH by Region, 2012-2017