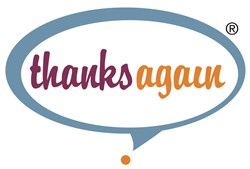 This is one example of our innovative approach to show our ongoing commitment to bringing the very best products and services to our guests.
Atlanta, GA (PRWEB) October 22, 2013
Areas USA, a leading provider of food and beverage and retail services in the travel industry, is launching the Thanks Again Traveler Loyalty and Engagement program system-wide. As a result, travelers patronizing Areas USA concepts can securely and automatically earn airline miles, hotel points or other popular consumer rewards of their choice when shopping or dining with registered debit and credit cards.
Guests conveniently and securely enroll in the Thanks Again program for free at http://www.thanksagain.com/areas and earn incremental miles or points when shopping or dining at airport stores operated by Areas USA nationwide including within Chicago O'Hare International (ORD), Los Angeles International (LAX), Reagan Washington National (DCA) and Boston Logan International (BOS). The seamless loyalty program also extends to non-airport retail locations operated by Areas USA – eight Florida Turnpike Service Plazas, two Maryland I-95 Travel Plazas (Chesapeake House, Maryland House) and Dover Downs Hotel & Casino.
As an added bonus, enrolled travelers earn double miles/points when shopping or dining at Areas USA concepts within airports that have previously launched Thanks Again in concessions. This pertains to Areas stores throughout Hartsfield-Jackson Atlanta International (ATL), Newark Liberty International (EWR) and Miami International (MIA).
Marc Ellis, Thanks Again CEO, commented, "Thanks Again is excited to directly partner with Areas USA, a renowned concessions operator. There is great synergy between our two companies since both Areas and Thanks Again strive to better engage airport travelers and motivate consumers to spend more as they travel."
"We are so proud to partner with Thanks Again to recognize our loyal Guests with sought-after rewards such as airline miles and hotel points," said Xavier Rabell, CEO of Areas USA, Inc. "This is one example of our innovative approach to show our ongoing commitment to bringing the very best products and services to our guests."
About Thanks Again, LLC
Thanks Again, headquartered in Atlanta, is the world's only card linked, airport-centric coalition loyalty program. Its loyalty and engagement solution links members of the most popular rewards programs to airport parking, airport concession operators and local businesses to stimulate commerce, loyalty and customer value. The Thanks Again Traveler Loyalty Network now spans over 165 airports and is rapidly expanding throughout North America (U.S., Mexico, Canada) and Latin America this year. Through direct partnerships with leading international payment card networks, Thanks Again is positioned for global expansion in enrolled members, reward program partners and airport clients. For more information, contact Partner Development toll-free at (866) 808-2099 or partner(at)thanksagain(dot)com.
About Areas
Areas is a leading provider of food, beverage and retail services in the U.S. travel industry. With the ever-growing number of establishments in the U.S., including Miami International Airport, Orlando International Airport, Indianapolis International Airport, Chicago O'Hare International Airport, Hartsfield-Jackson Atlanta International Airport, Boston Logan International Airport, Newark Liberty International Airport, Reagan National Airport, Los Angeles International Airport and most recently, Maryland I-95 Travel Plazas among others, Areas continues to deliver its superior guest service to each and every traveler. Its parent company, Areas, began doing business in 1968 and is a leader in Spain and Latin America's hospitality and retail market in airports, highways and railway stations. It operates more than 1,250 establishments worldwide.