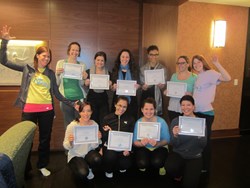 Manhattan, New York (PRWEB) October 23, 2013
Lil Yogi's NYC, a popular kids yoga company based out of the Upper West Side of Manhattan, is now taking requests for kids yoga certification from home. Yoga for kids is becoming extremely popular worldwide as the immense benefits include increased strength, flexibility and balance. Studies indicate that children's yoga also aids in improving confidence and decreasing anxiety.
Lil Yogi's NYC's courses can cover a wide range of topics that include: yoga for kids, yoga for special needs, yoga in the classroom, yoga hip-hop and yoga for test-takers. Participants will have the ability to choose a specific course with a focus on all or any of the above options.
The company offers a 6 hour mini-course or a 12 hour in-depth course. Classes will be hosted in accordance with participants schedules and can be split into two-hour sessions over three or six weeks. There is morning, afternoon and weekend availability that will be assessed on a first-come first-serve basis.
Lil Yogi's NYC will send a certified instructor to teach an appropriate course catered to participants' needs. The company requires a minimum of two participants and a maximum of fifty participants and there are discounts offered for large groups and student classes.
Upon completion of the course, participants will receive a certificate and may even gain an opportunity to teach classes with Lil Yogi's NYC.
For more information on tuition, availability and registration call or email Lil Yogi's NYC.