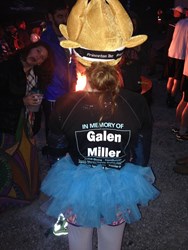 I wanted to run for hospice because of my family history.
Alexandria, VA (PRWEB) October 22, 2013
Bourbon anyone? That was the question asked on October 19 as runners crossed the finish line of The Bourbon Chase, an overnight relay, covering 200 miles in Kentucky.
As one of three charities of choice, NHF had eight Run to Remember teams that participated. Together and to date they have raised $67,500. And the donations are still rolling in, as many of the teams will continue their fundraising efforts through November. That is a record breaking amount for NHF's participation in The Bourbon Chase.
Teams committing to run for a charity are guaranteed entry into the race. When Christina Breeding, a clinical services specialist and her colleagues decided to do the race this year, choosing hospice as their charity was a unanimous choice.
"I wanted to run for hospice because of my family history. We asked our 12 runners, and everyone voted for hospice. It was even more appealing that we could designate half of our proceeds to Hospice of the Bluegrass," Breeding explained.
Hospice of the Bluegrass in Lexington provided over 40 volunteers to greet the runners at the finish line, making this a true hospice celebration.
Another reason this is truly special for NHF and the National Hospice and Palliative Care Organization? Christina ran in memory of Galen Miller, who died in August, during one of her legs, wearing a shirt with his name on the back.
Run to Remember is NHF's athletic fundraising program. Through it, runners and walkers train for races of varying lengths, honor their loved one's memories, and raise money for hospice. The program benefits local hospices across the country, as well as NHF's national work to advance hospice care at the national level.
To learn more about the National Hospice Foundation and the many ways NHF supports hospice, please visit nationalhospicefoundation.org.