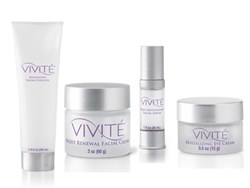 (PRWEB) October 23, 2013
The experts at eVivite.com have recently published information on glycolic acid, a popular ingredient in many face lotions, creams and peels, including VIVITE products. The article explains the risks and rewards of using glycolic acid and who is most likely to see adverse effects.
As noted in the eVivite.com article, glycolic acid is a type of alpha hydroxyl acid that naturally occurs in sugar cane. It has been used by the cosmetic industry for some time now. In addition to over-the-counter products, there are also stronger glycolic acid treatments that can only be performed by a licensed aesthetician.
As with all cosmetic products, significant research went into studying glycolic acid and its safety. Companies like Allergan, the makers of VIVITE, have studied the effectiveness of various alpha hydroxyl acids for years. While it was found to be highly effective at treating a variety of skin issues, glycolic acid can also cause irritation for some users.
The eVivite.com experts list that glycolic acid can be used for:

Reduction of acne
Lightening age spots and hyperpigmentation
Clearing up folliculitis
Treating rosacea
Minimizing the look of fine lines and wrinkles
For more information on VIVITE products and its ingredients, including glycolic acid, please visit: http://www.evivite.com.
About EVIVITÉ®.com
eVivite.com was created to provide consumers with a more affordable and efficient way to purchase authentic VIVITÉ® products. The company has created a process that eliminates the unnecessary logistical and storage costs, allowing customers to purchase directly from the warehouse at prices 30%-50% below retail. With eVivite.com, consumers no longer have to visit a doctor's office in order to obtain their VIVITÉ® products.