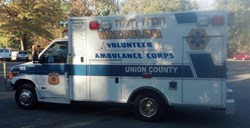 "Hatzalah considers Yellowstone Capital a true partner in our ongoing mission of saving lives."
New York, NY (PRWEB) October 22, 2013
Hatzalah Volunteer Ambulance Corp (HVAC) of Union County NJ, founded in 2004, is a non-profit organization serving the communities of Elizabeth, Hillside, Union and the surrounding areas. The primary goal of HVAC is to provide rapid response, rapid treatment and rapid transport of patients to hospitals. The squad is currently staffed by twenty state-certified Emergency Medical Technicians (EMTs), all ready at a moment's notice to drop whatever they are doing to help save a life. HVAC owns a fleet of three ambulances which are parked at strategic locations within its coverage area. All responders are equipped with emergency jump bags consisting of Basic Life Support equipment as well as EpiPens & defibrillators (AEDs). The Hatzalah response system gets members to the scene of medical emergencies in a matter of minutes in situations where time is of the essence.
HVAC is staffed entirely by volunteers and patients are never charged or billed for any of its services. No one in HVAC receives a salary or any other form of compensation. HVAC is 100% dependent on the generosity of its donors in order to fund its modest budget.
As in the past, HVAC's largest capital expense continues to be its fleet of ambulances. Recently, the HVAC Board of Directors determined that it was time to replace its oldest ambulance. While searching for a pre-owned replacement ambulance, the Board was informed by one of its members that a Brooklyn chapter of Hatzalah was listing for sale one of their ambulances, which was in excellent condition. The decision was made to purchase this ambulance yet the funding for it remained in question. Although there were some funds already in place for this purchase, a five figure amount remained.
Throughout the past years, Yellowstone Capital has been a significant donor to HVAC and actually donated the funds for their last ambulance, purchased two years ago.
http://www.prweb.com/releases/yellowstonecapital/HVAC-PressRelease/prweb9212015.htm
Board Member & Chief Yudi Abraham reached out once again to his friend Mr. Isaac D. Stern, President of Yellowstone Capital, for help in raising the remaining funds. Mr. Stern immediately and enthusiastically agreed to help. Mr. Stern and his colleagues at Yellowstone Capital sprang into action, and within four days they secured donations to cover the purchase of the ambulance.
The organization expects to take possession of the ambulance in the coming weeks. As said by Chief Abraham "Hatzalah deeply appreciates the support that Mr. Stern and Yellowstone Capital have given us over the years. Hatzalah considers Yellowstone Capital a true partner in our ongoing mission of saving lives."
Hatzalah would like to thank the following individuals & companies for their generosity in helping them secure this most recent ambulance:
Yellowstone Capital, LLC
Mr. Andrew McDonald and family
Mr. Desmond Miller and family
Dr. Michael Samuels
Mr. Elliott Klein and family
Mr. Matthew Melnikoff and family
Mr. Avi Franco and family
Strategic Funding
Mr. Evan (Big Macher) Marmott and family
Mr. Mathieu Chamberlain
Mr. Steve Davis and family
Durv Capital
Mr. Boruch Greenberg and family
Mr Aviv (Henry) Boaz
Mr. Josh Weiss and family
Mr. Yaakov Weiser and family
Mr. David Rubin and family