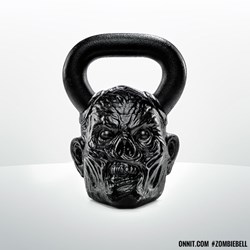 Our hand sculpted artistic renditions capture the spirit of these undead monsters, and will provide an awesome addition to the gym or the mantle. - Aubrey Marcus, CEO of Onnit
Austin, TX (PRWEB) October 22, 2013
After successfully releasing their full line of Primalbells, a line of functional kettlebells sculpted in the face of apes, Onnit has now put their efforts towards the undead. With the recent fascination of a coming zombie apocalypse, thanks to AMC's The Walking Dead, World War Z, and Max Brook's Zombie Apocalypse Survival guide, Onnit's new line of Zombiebells are sure to make fans hungry for these artistic pieces of workout equipment.
"The world's fascination with zombies has reached a fever pitch. Our hand sculpted artistic renditions capture the spirit of these undead monsters, and will provide an awesome addition to the gym or the mantle," says Aubrey Marcus, CEO of Onnit.
Although highly detailed pieces of art, these Zombiebells are fully functional pieces of workout equipment that can be used just like any other kettlebell.
"One of the mental techniques we teach to our kettlebell sport athletes is to 'Zombie Out'. It means to shut down the brain and just let the body do the work. These kettlebells are an awesome reminder of this teaching tool," says Ken Blackburn, International Kettlebell & Fitness Federation Head Instructor.
From now through Halloween, you can sign up to win the Zombie Apocalypse Survival Sweepstakes which includes a new Zombiebell, as well as other items meant to help you train for an inevitable zombie takeover. You can enter at https://www.onnit.com/zombie-contest/.
Onnit's Zombiebells will launch 10/28/2013 in four sizes, ranging from a 18 LBS to 72 LBS.
For more information, please contact orlando(at)onnit(dot)com.
Twitter.com/Onnit
Facebook.com/OnnitLabs
Youtube.com/OnnitLabs