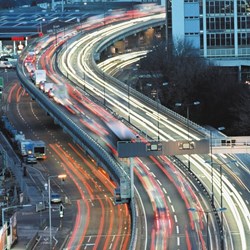 the traditional 'Black Friday'
(PRWEB UK) 23 October 2013
The traditional "Black Friday"
Over a number of years, Graham Smith, Data Manager at Trafficmaster, observed that the most congested traffic conditions on Britain's roads regularly occurred on the third or fourth Friday in October. There are several reasons for this coincidence said Graham:
1. The start of school half-term holiday week in England & Wales
2. The final days of BST and daylight hours before the return to GMT
3. The closing days of autumnal weather conditions, or, the onset of wintry weather conditions
4. The start of weekend Christmas shopping
This year, exceptionally heavy traffic is likely to occur on Friday, 25th October, when most schools in England & Wales start their Autumn half-term holiday week. For many, this is the final chance of a getaway break – either a long weekend or a full week - before winter sets in. The end of British Summer Time takes effect from 2.00am on Sunday, 27th October, so the following week will see a return to dark evenings, with the evening peak "drive time" mostly in darkness.
During October, weather conditions frequently display periods of calm, relatively fine weather, which encourages many to take to the road for the late autumn break. Such conditions, however, are prone to sudden change, with the prospects of frost and fog in the mornings, or wet and windy weather suddenly setting in – all creating hazardous driving conditions.
It's also the time of year when the retail trade turns its attention to Christmas shopping, with extended evening shopping hours at many centres commencing from the beginning of November, and the more restricted Sunday opening hours becoming much busier than usual.
On Friday, 25th October, expect heavier traffic than usual from late morning onwards as regular Friday traffic mixes with those making a getaway break. Roads most likely to be congested are:

M25 – especially around the Western Sector (between Junctions 12 & 17 – M3/M40 including Heathrow Airport), around the Dartford River Crossing (between Junctions 30 & 2), and between Junction 5 (A21 Sevenoaks) and Junction 6 (A22 Godstone), where roadwork's for widening are under way
M1 – especially between Junction 6A (M25) and Junction 13 (Milton Keynes) during later afternoon, and between Junction 23 (East Midlands Airport) and Junction 32 (M18) throughout the afternoon
M3 from Junction 2 (M25) to Junction 6 (Basingstoke) and from Junction 9 (A34) to Junction 13 (M27) during the afternoon
M4 from Junction 1 (Chiswick) to Junction 13 (Newbury) and between Junction 19 (M32) and Junction 20 (M5 Almondsbury) during the afternoon
M5 from Junction 15 (M4 Almondsbury) to Junction 18 (Avonmouth) during the afternoon
M6 between M1 interchange (M1/J19), Birmingham and Junction 21A (M62 interchange) from late morning onwards
M8 both ways between Junctions 12 and 23 (through Central Glasgow)
M26 westbound towards M25 at Junction 5 during morning peak time
M60 both ways between Junction 12 (Eccles) and Junction 18 (M62/M66 interchange) throughout the afternoon
M62 from Junction 12 (Eccles) to Junction 10 (M6 interchange) during the afternoon
A11 both ways through roadwork's around Elveden Cross Roads, from mid-morning onwards
A34 southbound from M40 Junction 9, to Oxford, Abingdon and Newbury, during the afternoon & evening
A303 westbound from M3/Junction 8 through Hampshire and Wiltshire, from mid-morning onwards
From Sunday, 27th October, expect spells of heavy traffic around the main retail areas (Lakeside, Bluewater, Westfields, Brent Cross, Cribbs Causeway, Milton Keynes, Metro Centre, Meadowhall, etc.) during late Sunday afternoons – around 4.00pm – 6.00pm – as stores close at the end of the Sunday trading hours.
During the week commencing Monday, 28th October, commuter traffic is likely to be slightly lighter than usual, as some take a week's break, but the evening peak "drive time" will now be largely in darkness.
As we head into November in the following weeks, traffic on the main trunk arteries reaches its peak for the year – although the busiest individual day is expected to occur in October, the month of November as a whole is usually the most congested month on the roads. Many drivers who had used cross-country routes during the summer months now return to better-lit Motorways for their regular journeys during the winter months, whilst Christmas distribution to the retail trade largely takes place during November.
In the evenings, many large retail areas encourage late evening shopping as Christmas illuminations are switched on – in Central London from 9th November, Sheffield from 6th November, Leeds from 7th November, Manchester from 10th November, and in many other towns and cities as the month continues. These attract additional heavy traffic on local routes during the evenings.
Traffic enquiries:
For traffic updates, Trafficmaster's control centre is on 01234 759 100 (available 24/7) and Michael Savage, Trafficmaster's Head of UK Networks, is available on 07730 922 800 for comment on the traffic situation.
http://www.trafficmaster.co.uk/
Media Contact:
Karen Sutton, Marketing Manager, Trafficmaster Ltd
E: karen(dot)sutton(at)trafficmaster(dot)co(dot)uk
About Teletrac® and Trafficmaster®
Teletrac, a partner in the Trafficmaster family: Already proven and trusted by more than 20,000 fleets of all sizes and tracking more than 200,000 vehicles globally, Teletrac saves fleet owners time, money, and reduces their carbon footprint. Teletrac customers report up to 30% lower fuel usage, an average of 15% less driver overtime, 12% higher productivity and less unauthorised vehicle use.
Trafficmaster maintains a unique network of traffic flow monitoring sensors, generating high quality real-time traffic information on the UK motorway and trunk roads. Live traffic information is provided to customers via RDSTMC, premium rate telephone services, the internet and various data feeds.
Teletrac provides, Fleet Director, their fleet management solution in the UK, which combines all of Trafficmaster's intelligent technology to help businesses become more efficient and productive, whilst reducing the environmental impact of driving.