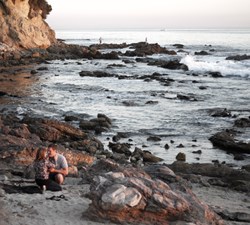 'I thought the gorgeous scenery of Newport Beach would complement my fiancé's beauty perfectly,' Marcus Grimaldi says.
Newport Beach, CA (PRWEB) October 21, 2013
Newport Beach, CA is the most romantic destination in all of Southern California. Couples can cozy up in candlelit bistros, stroll through quaint villages or take a boat ride through the canals of Newport Harbor at sunset.
The breathtaking scenery in Newport Beach is practically made for engagements. And if a destination is a possibility couples, consider traveling to charming and luxurious Newport Beach, the most romantic city in Southern California.
Not sure how to propose? Here are the top 8 ways to get engaged in Newport Beach:
1. On the Sand; Simplistic and Sweet: Nothing is more Newport Beach, than a proposal on the sand, with a ring in hand. Go on a casual stroll along the pristine beaches of Newport Beach or consider packing a picnic on a beach blanket. You can't go wrong with this sweet and simple seaside proposal. Don't forget to hire a photographer to capture the entire proposal.
Chicago native Marcus Grimaldi chose Newport Beach as the picture-perfect beachside location to propose to his new fiancé Brianna Saucedo. "The beaches in Newport Beach are unparalleled to any other in all of Southern California," Grimaldi says, "I thought the gorgeous scenery of Newport Beach would complement my fiancé's beauty perfectly."
2. Above the Rest: Engagement stories are told on repeat, not only after the engagement, but also for the couple's entire life. Why not completely sweep her off her feet with a once-in-a-lifetime grand experience? Consider popping the question aboard a helicopter above Newport Beach. You can soar above the sea while she is swept away by the scenery and romance.
You are only limited by your imagination as to how you can propose," says Patti Taylor with OC Helicopters, "we have had carving in the sand, signs, sand castles and glow sticks saying " I love you" or "Will you Marry Me?"
OC Helicopters is like the "Love Boat..Except it's a helicopter."
3. Bond on a Boat: Imagine having a night where an entire vessel experience is dedicated to the two of you for one amazing night to remember. Have dinner, drinks, and dessert all under the moonlight, while cruising the gorgeous Newport Harbor. You can pop the question under the stars.
There's nothing more relaxing and romantic than being on the water in a private gondola. For the gentleman who's proposing, it's the perfect atmosphere: water lapping against the boat, romantic music, a sparkling beverage, and a captive audience.
It's the ultimate way to get her in the mood for the "big question." And for the lady? She gets romanced and wooed, presented with a beautiful sparkling ring, and she steps off the gondola with the best proposal story of all of her friends. Top it off with some amazing photo opportunities for an engagement slideshow, and the gondola proposal is a complete hit."
"When a bottle mysteriously floats up next to her in the water," Gondola Adventures, Inc. Elisa Mohr says, "containing an old-fashioned scroll with a beautiful proposal inside, that's just the icing on the cake."
4. Public Notice: Everyone loves a public round of applause. We've seen it in movies where a couple are at a restaurant, guy proposed to girl, girl screams yes and the whole restaurant breaks out into a roar of clapping and cheering! Reinvent it, in Newport Beach, it's the foodie capitol of Orange County.
You're in the right place to find a fantastic restaurant for this special occasion! Options range from award-winning fine dining restaurants with a view to corner tables in a parisian bistro. Also, Newport Beach offers some of the best seafood, steaks and American cuisine as well as authentic ethnic fare as well. Best of all, you're bound to enjoy lovely coastal views, mild seaside breezes and al fresco dining settings. Cheers!
5. Make a Nest, She'll Say 'Yes': Make the proposal extra special and book a room or a suite in Newport Beach. Turn it into your haven for a weekend (or longer!). Create a romantic, lavish, and over-the-top experience for your bride-to-be... Think Champagne, desserts, flowers, candles… the works. It will be your seaside escape, and will be the perfect proposal.
Whatever your dwelling style is, Newport Beach has you covered! Whether you are looking for a luxurious resort, charming and chic boutique hotels, or something more rustic like campgrounds and cozy bungalows, Newport Beach has that too! For all the comforts of home, rent a beach or harborfront vacation rental home – the choice is yours.
6. Nature and Nurture: If any lovebirds are nature enthusiasts, consider embarking on a daytime athletic adventure. There are countless activities to choose, from hiking and biking to paddling and parasailing. Best of all, most of those activities are built for two. Tandem bikes, kayaks, stand up paddleboards and more.
There's plenty of locations to choose from as Newport Beach is a naturalist's playground. There's the Back Bay, you can enjoy miles of biking and walking/running around the serene seabird and wildlife sanctuary. For more of a challenge, head to Crystal Cove State Park, where you will discover California's native landscape as you weave through several trails with an ocean view.
7. Top Down, PCH Proposals: Cars and Newport Beach go hand and hand. Coast up and down Pacific Coast Highway, where there's several scenic locations to say those four magical words.
Rev it up a notch, and rent or purchase a luxury vehicle found at one of the several rental shops or customized luxury dealerships in Newport Beach. You will find BMW, Ferrari, Maserati, Tesla, Mercedes as well as European and American vintage and collectible locations too.
8. The Charlotte and Trey: Every girl knows the famous Sex and the City scene we all swooned over; Trey gets down on one knee outside of Tiffany & Co. to propose to Charlotte. Why not bring that scene to real life? Propose on a casual shopping trip, when she least expects it, then go in the store and have her pick out her ring over a glass of champagne.
Newport Beach offers an exceptional roster of exquisite jewelry stores. Check out Mark Patterson in Corona del Mar who offers hand crafted exceptional craftsmanship for her perfect ring. For a slice of The Real Housewives of Orange County, go to Newport Jewelers where Gretchen & Slade's fabulous rings were designed. For the ultra-luxe couple, head to Traditional Jewelers at Fashion Island, where you will be met with an expansive collection of designer diamonds. Located on the scenic Newport Harbor, Black, Starr and Frost will give you something old or something new, providing the bride-to-be with rare one-of-a-kind estate jewelry or a sparkling new unique engagement rings.
###
About Visit Newport Beach Inc.
Visit Newport Beach Inc. is a not-for-profit, 501(c)6 destination marketing organization that positions Newport Beach as a premier visitor and conference destination. For more information, go to VisitNewportBeach.com.