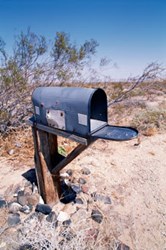 You can't do much better than a 30-day free trial of our mailing lists.
Hoffman Estates, IL (PRWEB) October 23, 2013
Plum Grove announced today the launch of its new targeted mailing list website, http://www.MailMadeSimple.com. Using the most accurate available business and consumer databases, marketers make lists of businesses, consumers, new homeowners, and new movers with geographic and demographic targeting. MailMadeSimple.com differs from other data providers by offering very low prices, professional marketing consultation, no list minimums, and a free 30-day mailing list trial all in an easy, do-it-yourself list ordering portal.
"We want ordering targeted mailing lists to be painless," explains Plum Grove founder Peter Lineal. "First in our prices -- our mailing lists sell for about half the cost of leading competitors with no minimum list rentals and low order processing charges. Also in our data quality -- we guarantee some of the best deliverability rates in the industry."
Unique among mailing list providers, MailMadeSimple.com offers a free 30-day trial of new homeowners and new movers lists. Marketers can receive a fresh mailing list of all new homeowners or renters in up to five zip codes, no purchase necessary. With the complimentary mailing list, Plum Grove hopes to inspire confidence in its product and to win marketers to a monthly subscription of the freshest leads data.
Though the website is designed to be simple and do-it-yourself, Plum Grove's marketing professionals are also available by telephone to help with mailing list set up.
"Our website is new, but we have been in this business a long time," Lineal continued. "For over 30 years we have been printing, mailing, and consulting with clients about their marketing. We can help deliver to marketers the best possible targeted mailing list."
About Plum Grove
Plum Grove – printing, marketing and promotional products with powerful execution.
Plum Grove (http://www.PlumGrovePrinters.com) is a Top 100 business printer based in Hoffman Estates, Illinois. Specializing in promotional products, printed marketing materials, and business printing products, Plum Grove offers expertise from over 30 years in the industry. The firm's manufacturing services include printing, copying, bindery, mailing, professional design, and Plum Grove Sign & Design, a wide-format printing division launched in 2013. Plum Grove is a leader in eco-friendly printing-- using green power, environmentally sustainable papers, and extensive recycling and waste reduction. The state of Illinois recognized Plum Grove with its highest award for environmentally-friendly business.