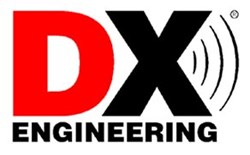 Tallmadge, OH (PRWEB) October 23, 2013
DX Engineering of Tallmadge, Ohio and Hi-Z Antennas of Culver, Oregon today announced an exclusive marketing and distribution agreement. DX Engineering conceived innovative phasing methods and systems for HF directive receive arrays; building on these design breakthroughs, Hi-Z Antennas has been producing excellent receiving systems for over five years.
"We are very pleased to enter into an exclusive marketing and distribution agreement with DX Engineering. This move will allow Hi-Z to focus primarily on performance improvements and bringing new product ideas to market. Amateurs Radio operators worldwide will get the best of the best with both HI-Z Antennas and DX Engineering working together," said Lee Strahan K7TJR, president of Hi-Z Antennas.
"With the synergy created by the marketing, distribution, customer service and fulfillment capability of DX Engineering, we intend to continue our position as the worldwide industry leader in providing HF phased array systems. Hi-Z Antennas is also recognized worldwide as a leader in delivering quality receiving systems and engineering excellence. We are excited about working closely with the team at HI-Z Antennas going forward," said Tim Duffy K3LR, Chief Marketing Officer and General Manager of DX Engineering.
DX Engineering
http://www.DXEngineering.com
1-800-777-0703
About DX Engineering
At DX Engineering, Amateur Radio is all we do. Our goal is simple: fulfill the needs of Ham radio enthusiasts with the best products and technical support. Whether it's DXing, Contesting or just plain everyday operating, we strive to develop products that fill a specific need, products that are reliable, fully tested, and represent the best value for your money. DX Engineering also carries the highest-quality products from brands that meet our exacting standards.